I knew that there was a new Mr. Men Show on Boomerang/Cartoon Network. But I made a snap judgment that it was a smart-alecky show with no redeeming value.
Then when Carrie reviewed the Mr. Men and Little Miss books, I reconsidered a little bit, but we still didn't start watching them. This week, I posted in my "I Read It!" post that we've recently enjoyed some of the books, and Kyle has been watching the show when he's home from school (which has been all too often with several morning delayed openings lately), so I decided to watch it with him.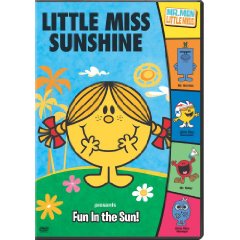 I was wrong. While it's not educational per se, it does seem to hold to the spirit of the books. In the TV episodes, we see a whole cast of characters interacting together. The two I watched with Kyle featured Little Miss Calamity, who cracked me up, especially as she hung out (and thus played off of) Mr. Rude. Mr. Bump always cracks Kyle up, and Mr. Grumpy is sort of convicting (to this too-often-grumpy mommy). We've also enjoyed the antics of Little Miss Scary and the fears of Mr. Nervous as they play out on screen.
There are a few episodes available on DVD.
By the way, speaking of books (authors) and Boomerang, the kids and I were both delighted to catch the name of the director of a new Quick Draw McGraw cartoon short that they've been showing on that network: Mo Willems. FYI, he also worked on Suzie Kabloozie shorts for Sesame Street (which I remember from Amanda's Sesame Street days!), and was head writer on Codename: Kids Next Door, which I'll have to pay a bit more attention to the next time it's on.
Jennifer and her kids are all confirmed bookworms, but we really like TV and movies too. Find out more about what we're up to if we're not staring at a screen or burying our noses in books at Snapshot blog.
Check out our current giveaways. Subscribe to our feed. Follow us @5M4B on Twitter.