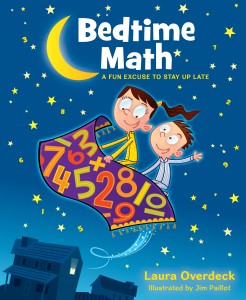 When I handed Mister Man the book Bedtime Math by Laura Overdeck, he made a face. I was surprised, as I had thought surely my fact and math loving child would be excited to read it. He wasn't. Forty-five minutes later, I called to him, asking what he was doing as it was time to get ready for Tae Kwon Do. He was completely absorbed in the book and refused to put it down. Ha. Score another one for Mommy.
The concept started when Overdeck had young children. An astrophysicist, she didn't want her children growing up with the fear of numbers that so many Americans face. She created kid-friendly little bedtime math problems that quickly grew into friends asking her for them and a successful blog, too. Now the concept has been translated to a book to read at bedtime to children, and it's absolutely charming.
Each chapter features a different topic from exploding food to sports you shouldn't try at home to really odd jobs and more. The ideas are fun, and they make math fun, too. Each page in the almost 90 page book features a different set of math problems, first set up by some fun information about the specific topic. I love that this imparts additional facts and information – and thinking – rather than just shooting out a math problem that might be more daunting and less engaging.
The math problems include three per topic, one for wee ones, one for little kids, and one for big kids. That gives a different level of math, depending on where your child is at and also allows you to do multiple problems for multiple children at the same time. When I asked Mister Man for his favorite, he simply replied, "All of them." He couldn't decide because he was so fascinated. He solved each different problem on every page and wants to come back for more. It was adorable when he started going through the book pointing out the cool information on each page and then quizzing me on the math.
Because so many adults get frazzled with math, the answers for the problem are on each page, making it easy and less stressful for parents who might worry about not being able to solve the problem before their children. There is also a page in the back that shows the equations needed to solve each problem if you wish to reverse engineer the answer.
I love the different levels, and I love the fun behind this book – as do both of the wee ones. I can see how this has so quickly taken off (it started as a quick once a week email in February 2012) and become so popular so fast. Not only do we love the book, but I'm a new subscriber and fan of the blog, as well. And you can bet that I'm sharing this website with the principal at our school who is a huge proponent of making math fun, as well.

We have a copy of Bedtime Math to give away (U.S. only). Leave a comment if you'd like to win, and we'll announce the winner in our July 10 giveaway column. The giveaway is closed.
Written by Michelle who is thrilled that her children aren't afraid of math, although Little Miss did just announce she no longer wanted to be an astronaut because Michelle informed her that she'd need to use lots of math to become one. See what other parenting failures Michelle has made via her blog Honest & Truly! or follow along with her on Twitter where she is also @HonestAndTruly.
Check out our current giveaways. Subscribe to our feed. Follow us @5M4B on Twitter or on Facebook.