As a book reviewer, I received a copy of this book for free from the publisher or author to facilitate this review. I received no other compensation, and all opinions are always 100% my own.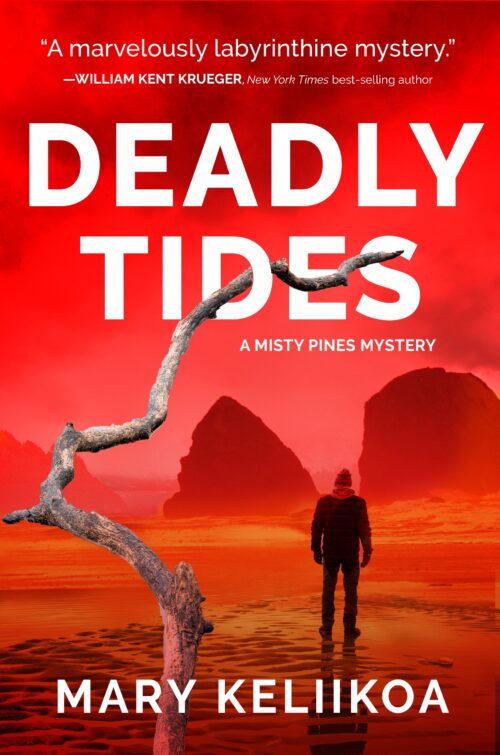 FBI agent Abby Kanekoa is frantic–her mother has once again wandered away from her assisted living place. Abby eventually tracks her down miles away on a deserted beach, cradling a human foot that has washed ashore. Across town her ex, Sgt Jax Turner, is responding to a call from a concerned family member. A local surf legend and surfboard designer is missing in the dense woods behind his home.
Set amidst the forested cliffs and misty headlands of the Oregon coast, Deadly Tides slowly pulls you into the mystery. There are two missing people, but the only body they have is that of a houseless man who fell off a cliff, whom no one reported. There are several promising leads–troubled teenagers, the disgruntled owner of a rival surf shop. On top of that, there's an attractive nurse who loves to bake for people and seems a paragon of concern. Jax and Abby know her from her care for them when their own daughter died of leukemia. She seems to know everyone concerned with both cases, but that's also not surprising in a small town with only one main hospital. She might be a lead or yet another red herring–the book is stiff with them, keeping the reader guessing.
Deadly Tides is the second in the Misty Pines series, and although I haven't read the first (yet), I had no problem following the plot of this one. But I'm going to mention something that bugs me. Misty Pines and West Slope are fictional towns set amidst real towns and cities on the coast, some of which are mentioned. That's okay, but as a local myself,the author's habit of pulling landmark names from Portland and plopping them on the coast messes with my sense of location. This is petty and can only affect a few people, but it was something I had to work though. Happily it didn't take too long before I was too involved in the tension between Abby and Jax and their different reactions to their loss, the stress Abby feels as she tries to care for her stubborn aging mother, the parents' reactions to their troubled teens, and more. It's a good read. I recommend it!
Amazon – https://amzn.to/3PkMAyx
Barnes & Noble – https://bit.ly/3R23aV0
BookShop.org – https://bit.ly/3OW5jz7
Goodreads – https://bit.ly/45TeA1D
Author Bio:
Eighteen years in the legal field, and an over-active imagination, led Pacific NW native Mary Keliikoa to start writing mystery and suspense. She is the author of the award-winning HIDDEN PIECES and DEADLY TIDES, both part of the Misty Pines mystery series, the PI Kelly Pruett mystery series including the multi-award nominated DERAILED for best debut, and the upcoming stand-alone DON'T ASK, DON'T FOLLOW out Summer of 2024. She's also had short stories in Woman's World and the anthology, Peace, Love, and Crime.