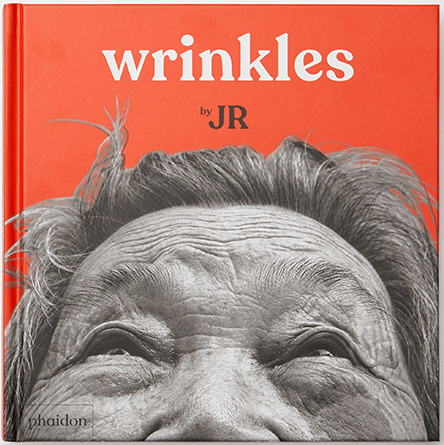 A photographic picture book just bursting with humanity, JR's Wrinkles is a delightfully unique and visually stunning celebration of a full life lived. Grab this book and settle in for a cozy read with a child in your life, ready to closely examine the photographs and learn more about each of the individuals featured.
I've had this book sitting on my desk for a few days now, and I can't help but smile every time I glance at the cover. The joy in the eyes of Shi Li in the cover image is palpable and contagious, and they are just one of 24 people featured in these close-up black-and-white photographs. Public artist and photographer JR used these portraits in a project entitled "The Wrinkles of the City" in which gigantic prints of the photos were pasted on the sides of buildings in six cities across the globe. In picture book format, the faces may no longer be larger than life, but they are no less engaging.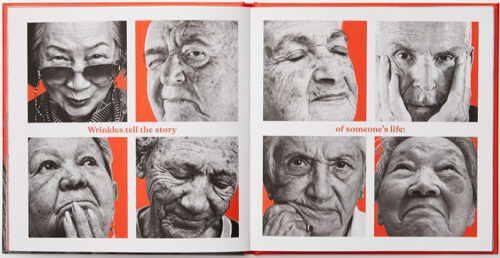 The photographs are combined with short and straightforward pieces of text encouraging young readers to notice the "soft stripes in our skin". An appreciation for the physical effects of a life filled with laughter and playfulness runs deep in this book, and realistic images of older people are not terribly common in children's literature, making it a unique and meaningful reading choice. In addition, a short paragraph accompanies a smaller version of each photograph, introducing each participant in their own words.
While I haven't read this book with a small child, I have been utterly fascinated with it just on my own. I predict this will be enjoyed by many readers, young and old(er) alike!