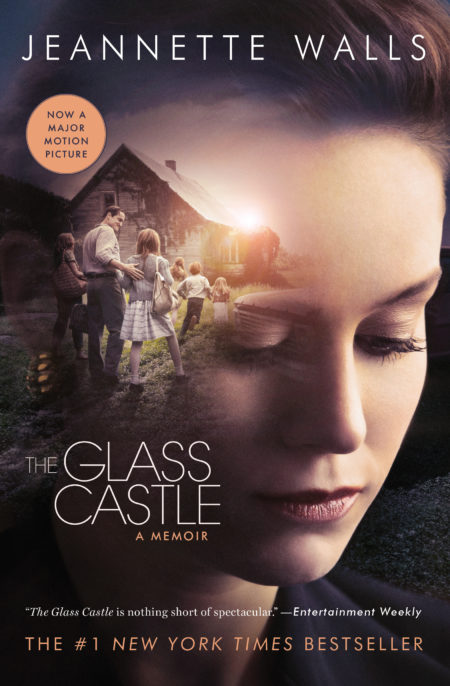 In association with Lionsgate, I was able to see an early screening of the movie The Glass Castle, now in theaters, and was incredibly honored to interview Jeannette Walls, the author of one of my favorite books of all time, the memoir that does exactly what a memoir should: tell a story about obstacles that actually end up making a person stronger.
When I read the book initially, over ten years ago around the time it first came out, it blew me away. Memoir wasn't as popular as it is now, and reading this true story — this hard story — about a woman and her siblings who endured what most of us could not even imagine, and actually fought her way up and out, is inspiring.
The writing is so evocative, that there are scenes that stuck with me ten years later. I revisited the book in preparation of seeing the film, and those memories were there, and there were other parts that seemed new.
Of course the book is better. A screenwriter has two hours to tell this story that covered over 20 years. I wondered if it would be tougher to see it visually, but the director did a great job with the film. There are parts that are left out, and I think the choice was made to focus on the relationship between Jeannette and her father, so her mother's role was downplayed.
As Jeannette Walls said in my interview with her (please click through to 5 Minutes for Mom to read my interview with her about her thoughts on the film, being on set, telling her story, and taking off her armor) —
"It's a fine line. It's a fine line between getting in all this, you know, and just like I can't watch this. It's just too upsetting. I thought Destin (director and screenwriter Destin Daniel Cretton) was just really smart about capturing that there was pain and hunger and misery, but there was also joy. And it's a fine line. And you don't want to make it miserable, but you don't want to whitewash it either. And so, how do you stay true to it? And I personally thought he did a spectacular job."
The actors are amazing. The filming is done in a unique way, blending past and present. It's fun seeing the 80's as an historical period.
I think that the film will be experienced differently by those who have read the book and those who have not. I took a friend who also loved the memoir. We were shocked that people laughed at some of the scenes where father Rex raged. It could have been nervous laughter, but for those who know the whole background, it's hard to laugh. There is also joy in the film and Jeannette walls said that she also laughed in parts, which also shows that she's truly come to terms with her past.
Hard stories need to be told, but sometimes they are hard to watch. I think this film did a good job of telling it in a beautiful way with great actors. If you've read the book, might want to see it play out on screen. If you see it and are curious, you will want to read the book to find out even more about this family.
About the movie

Starring Brie Larson, Woody Harrelson, Naomi Watts, Max Greenfield, Sarah Snook, and Robin Bartlett. Based on the best-selling memoir by Jeannette Walls.
Chronicling the adventures of an eccentric, resilient and tight-knit family, THE GLASS CASTLE is a remarkable story of unconditional love. Oscar® winner Brie Larson brings Jeannette Walls's best-selling memoir to life as a young woman who, influenced by the joyfully wild nature of her deeply dysfunctional father (Woody Harrelson), found the fiery determination to carve out a successful life on her own terms.
Lionsgate presents, a Gil Netter/Lionsgate production. Screenplay by Destin Daniel Cretton & Andrew Lanham. Directed by Destin Daniel Cretton.
In theaters now.
Social
#TheGlassCastle
http://www.TheGlassCastle.movie
https://www.facebook.com/GlassCastleFilm
https://www.twitter.com/GlassCastleFilm