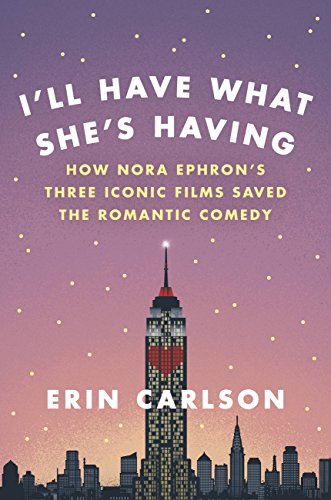 I do love Nora Ephron. I remember watching and enjoying Heartburn starring Jack Nicholson and Meryl Streep when I was just a teenager. I now know it was based on the true story of her own marriage falling apart from journalist Carl Bernstein.
I'll Have What She's Having's subtitle says it all: How Nora Ephron's Three Iconic Films Saved the Romantic Comedy. Of course those three films are When Harry Met Sally, Sleepless in Seattle, and You've Got Mail — favorites all.
This well-written and engaging nonfiction book by Erin Carlson takes a look at Nora Ephron's career in writing and directing movies. It also gives a lot of background and impact of her supporting players: Rob Reiner, Tom Hanks, Meg Ryan — to name only a few.
I think that this book is best reviewed in bullet form, hinting at what might be to come instead of giving it away. Some of these topics included in this book that I loved reading include
Ephron's role as a woman in a man's world
how her personal life influenced her drive
the evolution from the original idea into what became When Harry Met Sally
the similarities between Rob Reiner and Nora Ephron and Harry and Sally
Meg Ryan's impact on the roles and films
her attention to detail on her films, from set to wardrobe
the original screenwriter of Sleepless in Seattle, whose work was heavily rewritten
which key role in Sleepless was replaced right before shooting started
the special touches that lent You've Got Mail authority and made it a love letter to New York City
glimpses into the semi-autobiographical Hanging Up movie, and some films with her fingerprints on them, such as My Blue Heaven (which I love, but she was apparently unhappy with the result), and her directorial debut This is My Life
If you enjoy nonfiction that gives you an insider's look into a certain profession or way of life, this book is for you. If you are interested in the film industry, or a die-hard fan of the romantic comedy, this book is definitely for you. There's a lot of information here. It's not a breezy narrative non-fiction tale, and yet, there's a story there, and one I wanted to keep reading.
Find out more about the book and author and read other reviews at the TLC Book page.