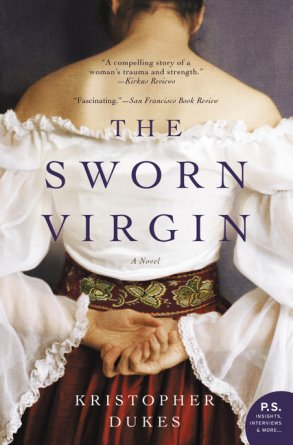 Albania, 1910, is a world bound tightly by tradition. The honor of men is everything, and the blood feuds between families are never-ending. If a man loses honor, even his friends will constantly remind him–shunning him, serving him bitter coffee with a bullet in it, etc. Women are valued only for the honor they bring a man, through hospitality, through bearing sons, through behaving in circumscribed ways, and of course they can bring great dishonor onto their families. The only way to lift the stain of shame is through blood, through killing the man that dishonored your brother or your father.
In this world, Fran and his daughter Eleanora are absolute anomalies. Fran is educated, a healer who loves books and poetry and speaks several languages, and he raises his motherless daughter as his equal. There is no shame in letting a woman choose whom she marries, he argues, although all the villagers laugh at him. He brought Eleanora to the village when she was a baby, and married a local woman, Meria, who lives happily with the strange duo and dreams of making her step-daughter conventional.
Eleanora is an artist, and dreams of leaving her tiny mountain village and going to Italy to study. One day she and her Baba go to the town of Shkodra. Her father leaves her in a cafe, telling her he'll be right back, and while he is gone, someone shoots him in vengeance of a blood-feud. Eleanora is devastated. Not only has she lost her beloved father, but she blames herself: if she had been with him, the laws wouldn't have allowed him to be shot, since women are assumed to be too fragile to deal with such a sight.
After she returns to her village, Meria sells her stepdaughter into marriage to a local man who has long admired her. Eleanora's only possible escape is to become a sworn virgin–to take an unbreakable vow of chastity which will allow her to live as a man, be in charge of her stepmother, buy and trade goods, and shoot a gun. Desperate, she does it. She even returns to Shkodra to seek answers to her father's death–only to find herself plunged into even more of a morass.
When a wounded man turns up one day, Eleanora manages to stitch up his injury and while he is recuperating at their house, falls in love. But who is he really? And what will she do about her vow? And how will she deal with the narrow-mindedness of her stepmother?
The Sworn Virgin offers a tantalizing glimpse into a world very different from our own, one that we would find very constraining. While I didn't find Eleanora the most sympathetic of heroines, I could certainly relate to her struggle for freedom, and to find a man who would respect her for herself. Eventually, she realizes that she will have to find her own way, and that any choice in life will require compromise on one level or another. Recommended.