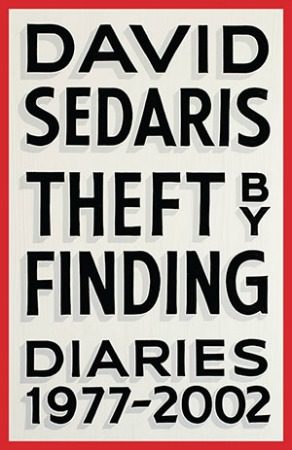 David Sedaris is known for his unique and sardonic essays and stories, and he is widely beloved for them. Fans of Sedaris' will definitely not be disappointed by the release of decades of his own personal writing in  Theft by Finding: Diaries (1977-2002).
If nothing else, these diaries prove that Sedaris was a writer long before he ever received any recognition for his work. And not just a writer, but a talented master of concise writing, of choosing the exactly perfect words to convey a particular perspective on everything from soap opera storylines to the regulars at a local IHOP restaurant. His perspective has always been oddly perceptive and incredibly self-reflective, often to the point of self-degradation, and because of the diary format, we can firmly believe that Sedaris was telling his honest truth. Sometimes it's painful and cringe-worthy to read, and other times his voice is infectiously celebratory, even when writing about fairly mundane, day-to-day happenings.
There's a draw to reading a diary for some, perhaps, because of the peek it provides into someone's private thoughts. With Sedaris, readers are quite familiar with his writing style and so many of his personal stories from over the years, making this opportunity to go back and read his thoughts from 40 years ago all the more appealing. Reading his entries around the time he was first getting national attention for his Santaland Diaries brought back my own memories of hearing him reading his story on NPR, and it was a bit like time travel to hear his thoughts from back then. Fans of his sister Amy Sedaris' acting and generally wacky sense of humor will particularly love whenever he drops in bits about stunts she pulled in public, knowing that their relationship and collaborations over the years have been so sincerely full of joy and hilarity.
It's clear that David Sedaris was writing with biting wit even when he had no audience. (Unless he had a long-term plan all the way back then to someday release his personal diaries??) Regardless of his intent all the way back to the late 70s, his voice has always been the same, and his critical eye of those around him along with himself has always been incredibly engaging. All I can ask now is, will we have to wait another 40 years for round two?