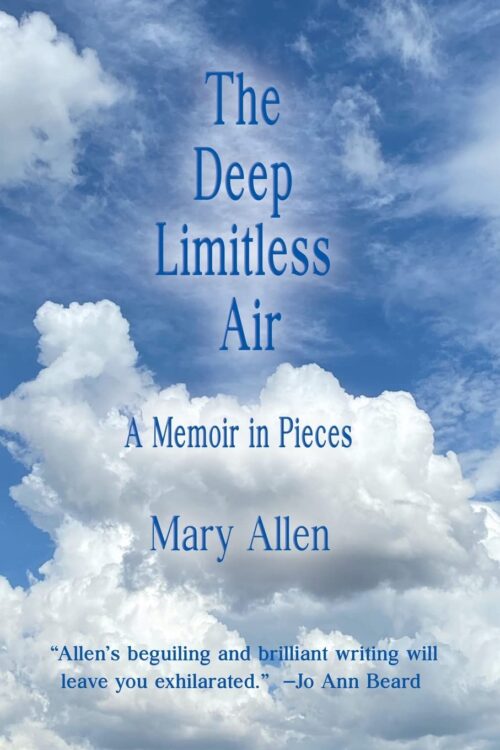 Mary Allen's memoir gives the sense of a life told in fragments, like daisies on a chain, each one unique in shape and detail. From her opening chapter in which a box of angry bees, settling down into a new hive, somehow blurs into the anger her mentally-ill mother carries towards herself, you as the reader know you're in the hands of no ordinary memoirist. It's a brilliant way to organize a memoir actually. Allen is adept at drawing lessons from life's moments and seeing the deeper meaning behind it all.
The book is arranged in roughly chronological manner. There's a lovely story of her sister baking and frosting a 3-layer cake while in labour and taking it to the hospital with her, where she and the medical staff all celebrate the first birthday of her daughter, but that chapter ends at the sister's funeral after her untimely death. In the early chapters, Allen is timid, dealing with her mother's rejection and the crippling fear it passed down to her, unable to imagine herself ever on a plane or giving a public speech. Yet years of hypnotherapy, EMDR which she learns to give herself, and a lot of work lead to a woman who happily flies to Arizona for a week of hiking in March heat, or a Christmas on Maui, who pushes boundaries and lives a life of her own choosing.
The Deep Limitless Air is a hopeful book. Allen deals with loss and grief, but she also learns to soar above it, literally in some cases. She has some really lovely turns of phrase–at one point she talks about "swimming in the deep waters of herself" which just resonated. Other characters come in and out of the book, as they do in any life, but Allen's focus on self-discovery and on learning to live in the world around her keeps the story moving steadily forward. An enjoyable read.