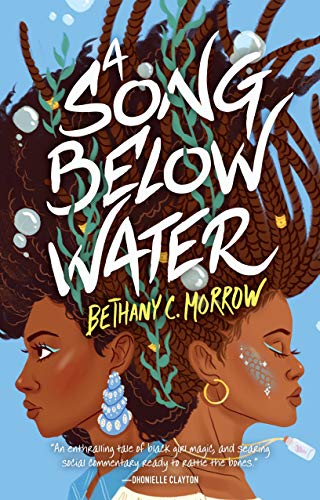 Being a black girl in today's world means often being denied a voice. In A Song Below Water, Tavia's voice is especially suspect. The author has taken real-life issues and isolated and magnified them through symbols, so that Tavia is a siren, and all the world is in fear of her voice and its power and so does all that it can to silence that voice. Tavia's world looks much like our own, but with an added layer of fantastical beings–mermaids, elekos, sprites, live gargoyles, and gorgons, to name a few. Sirens are famous for controlling people through their voices and so it's best if no one knows you're a siren at all. A popular TV show has one siren voluntarily wearing a voice-canceling dog collar. Sirens only show up in the black, female population, so you can see why no one gets too excited when they show supernatural abilities of any sort.
On top of that, Tavia is dealing with other typical teen issues. Her relationship with her father is strained. She inherited her siren-ness from his mother, and she feels that he hates that part of her and doesn't accept it. However, he moved the family to Portland in part for her protection. He obviously worries about her safety a lot–something that is certainly normal for a father of a teen daughter. Tavia is also dealing with first boyfriends, kisses and break-ups, and prom dates.
Tavia's best friend, Effie, is staying with their family as the two girls navigate their junior year of high school together. Effie has her own issues. For one thing, she seems to be becoming something else entirely–but what? Her identity is a cause of great stress to her. Additionally, she carries the trauma of being the only survivor of a childhood event that left her 4 playmates turned to stone statues. Her favorite place is the RenFaire where she has longed played a mermaid, but her attempts to make RenFaire playacting into reality don't succeed.
A Song Below Water takes place amongst issues ripped from today's headlines–protest marches, police brutality, "say her name" chants–but it's dealing with issues that have long plagued our world. Author Bethany Morrow does a fantastic job of making her point without being too heavy-handed or didactic, weaving together reality and fantasy into a seamless whole. The result is compulsively readable, with a fast-moving plot and sympathetic characters that build throughout this coming-of-age story. I loved this book, and have already gotten my sister-in-law to buy her own copy. Highly recommended.