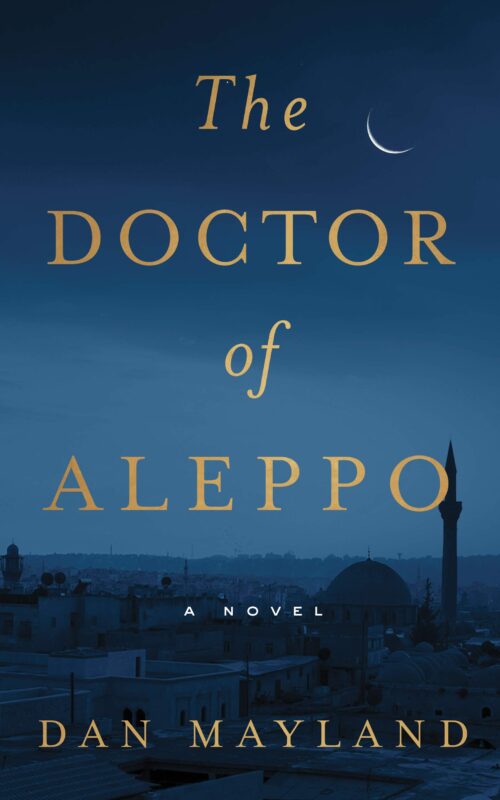 In 2012, the Syrian civil war was spreading north to the beautiful, historic city of Aleppo. Four years later in 2016, I remember following the news of the fall of Aleppo with horror. The city had been divided into rebel and regime held halves, and the destruction by the Russian-backed regime on the rebel-held half was absolute. Now comes a novel set in those desperate, turbulent times.
The Doctor of Aleppo follows the story of Dr. Samir Hasan, a renowned orthopedic surgeon with a successful private clinic, a lovely wife and 2 small children, and a stately old home that's survived centuries of unrest. As the story opens, it's 2012 and street protests are just beginning in Aleppo, and his nephew is badly injured in a protest. Dr. Sami worried that treating him will draw the regime's eyes to himself. His fears seem realized when the boy dies, and his mother insists on a public funeral that starts another protest.
Meanwhile, his hospital contains 2 patients whose stories we will also come to know. Oskar is a Swedish man working with a European nonprofit, who was caught up in protest and later fell from a hotel window. His girlfriend, Hannah Johnson, is half-Syrian half-American, and she longs to stay and help even as the two obviously need to get to safety in Turkey as quickly as possible. She is good at insisting on the very best care for Oskar, and makes her presence felt. In the opposite bed is a teenager named Adel, who was run over by a truck and whose father is an officer in the Mukhabarat, Syrian military intelligence. When a seeming mistake costs Adel his life, his father embarks on a Javert-like journey of revenge, seeking both Dr. Sami and Hannah's lives.
The novel is gripping and realistic. It's beautifully written and does a good job of really capturing the beauty and complexity of Syria and her people. There are many smaller characters, both good and bad, and the story weaves in and out of Aleppo as well as cities in Turkey and Scandinavia. I rarely give 5-star ratings, but I felt this book deserved it, for its excellent writing, well-developed characters, and great plot with a really satisfying ending.

Purchase Links
Connect with Dan