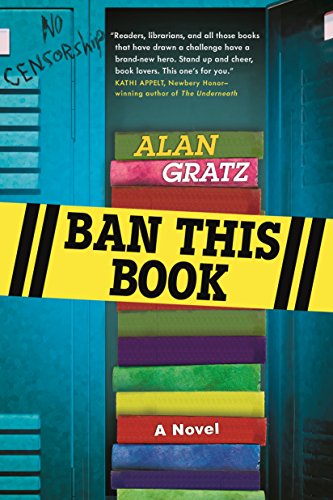 Let me start this review the way I start off many reviews of middle grade novels, especially if I haven't read one in a while, and especially when they are the kind of books I enjoyed as a young reader: books featuring strong girls, maybe a little quirky, and if there is some sort of book subplot — all the better (Another recent read The Losers Club hit these marks as well).
Every day after school, Amy Anne heads to the library to hang out for a while and check out a new or favorite book. One day she gets there and her very favorite, From the Mixed-Up Files of Mrs. Basil E Frankweiler, is not on the shelves because it was challenged and the elementary school board removed it and several other books from the library.
Mrs. Jones invites Amy Anne to speak at the board meeting in defense of the book.
"Are you crazy, Mrs. Jones? Me, get up in front of a bunch of adults and tell them why that book is my favorite book? Do you have polka dots on the brain? I can't do that!"

That's what I wanted to say.

Instead what I said was, "Okay."

(Page 15)
Middle grade fiction often has some sort of quirky device, and in this book it's that we get to read what Amy Anne wants to say, and also what she really says. I'm sure this is quite relatable to kids who often feel they don't get their say, or to anyone who is too shy to express what they really feel.
Amy Anne, along with the help of friends, come up with a plan to make sure that every book is available to anyone who wants to read it.
Ban This Book is rounded off with other great characters — best friend Rebecca, lawyer-in training, librarian Mrs. Jones with a heart as big as her crazy patterned dresses, Trey who goes from nemesis to ally, and Amy Anne's frazzled parents.
The reason that Amy Anne escapes to the library each day (telling her parents that she's in after-school clubs) is so that she can have some peace and quiet. At home, she shares a room with one of her younger sisters, and the other sister is all over the place. When Amy Anne reaches her breaking point, she finally says what she really thinks — that she hates this family! I thought that this was so realistic and handled in a sensitive yet honest way (and of course it was resolved that she doesn't really hate her family, but she's awfully frustrated by them).
I loved this book — the idea that kids can be agents of change and that speaking up is good for them and those around them. It was sweet and funny and suspenseful as we waited for the resolution of the problem.
I realized after this book sat on my nightstand for a while that Alan Gratz also wrote Prisoner B-3087 which was one of my favorite reads the last time I was a Cybils judge. It's historical fiction and has a totally different feel, so I was pretty impressed!