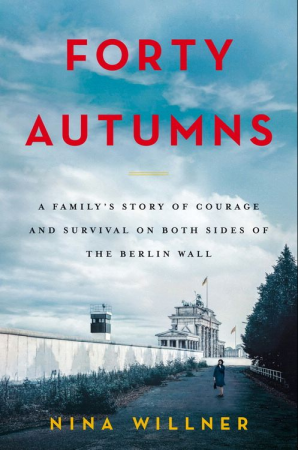 When Nina Willner was a little girl growing up in America, she was intrigued to learn that she did have a grandma and grandpa after all, on her mother's side (her father's family were all killed in the Holocaust). She studied the picture of her Oma and her sweet smile, and learned of the existence of an entire side of her family, aunts and uncles and cousins, who were living out their lives behind the Iron Curtain in East Germany, cut off from their eldest daughter, Nina's mother Hanna.
Hanna's father was the headmaster of the school in the small German village where she grew up, and he loved learning and instilled that love in all his children. He was known for his ability to make wise, calm choices, and was a respected leader. However, he was not prepared for the Communist invasion of their country. At first he went along with it, wanting to keep his position, but the strain was terrible.
When WWII ended, initially their small village was occupied by the Americans, but as the Allies divided the conquered company between them, villagers learned they would fall under Russian control. Hanna's mother initially tried to send her beautiful oldest daughter with the departing American soldiers to safety, but Hanna refused to leave her family. Soon, as the realities of communist control set in, Hanna decided to escape. It took 3 attempts before she finally made it, and she was extremely fortunate to not have been killed or imprisoned as a result of her first two attempts.
Once she was free and a resident of West Germany, it would be 40 years before she saw her brothers and sisters again, and she would never see her father. She learned English, met the American Army officer who would become her husband, moved to America, had children. Her family experienced the ongoing and escalating oppression of the regime. One of her nieces showed promise as a athlete, and would eventually compete internationally for East Germany as a swimmer and as a cyclist.
When Nina grows up, she becomes an intelligence officer as well, and actually conducts spy missions behind the Berlin Wall.
Told in personal anecdotes as well as presenting the broader historic sweep, Forty Autumns offers a humanizing look at historic events. By telling in detail the story of one family forced apart, and of the sacrifices and struggles experienced by ordinary people living in East Germany under a very oppressive regime, Willner has brought the past to life. A fascinating read.