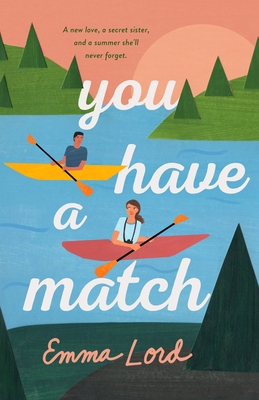 Emma Lord's debut novel, Tweet Cute, was one of my unexpectedly favorite reads of last year. So I was thrilled to receive her follow-up, You Have A Match, from NetGalley, and found it equally as charming and relatable, even if it is YA and I'm far from that target age group.
When Abby agrees to sign up for a DNA service to help out her best friend Leo, she expects only to find out whether she's more Irish than her other best friend, Connie. So when it turns out she has a full blooded older sister, her world is rocked.
Abby agrees to meet Savannah, who is Instagram-famous with tens of thousands of followers, and then decides to attend the summer camp where Savvy is a counselor, in order to figure out the story behind Savvy's adoption — why did Abby's happily married parents give her up, and why did they not tell Abby or her younger brothers?
A lot of this story hit home for me, as an adoptee with very little information about my background, and what I've always grown up believing about my heritage turned out to be false after I had my own DNA test done.
As with Tweet Cute, social media is a large part of You Have A Match; not only Savvy as an Influencer, but Abby's refusal to use it to further her photography career.
Also, you can't have YA without a little romance, and Abby's crush on Leo is a large part of the story. Her fear of rejection is strong though and while she comes close to telling him how she feels, well meaning but misplaced interference by Connie prevents this from happening. Savvy has her own love-life problems, as her relationship with her girlfriend is threatened by her hidden feelings for her best friend.
A modern day Parent Trap with a twist, I highly recommend You Have A Match and look forward to the next novel Emma Lord has in store.