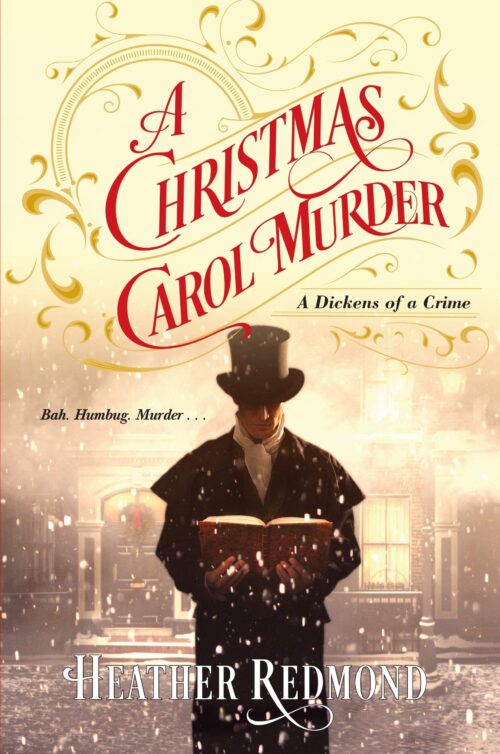 A Christmas Carol Murder is a fun book, perfect of course for December reading. The main character is Charles Dickens himself! He's engaged to the charming Kate Hogarth (from a conservative Scottish family), and he is working as a journalist for her father's newspaper while also hoping to get his first book published.
Kate and Charles are out caroling with friends when a body crashes though an upper-story window and lands on the pavement near them. One of the women swoons, but Kate's intrigued. The body turns out to belong to one Jacob Harley, and the house from which he fell belongs to his business partner at a counting house, Emmanuel Screws, a man well known for never contributing to charity. Of course you can see where this is going! But soon another murder happens. Charles, and Kate as well, are determined to figure out what's going on.
The book is full of lots of other fun references, including an apparent ghost come to warn Dickens off the murder investigation, and a tiny orphan named Timothy. The author has definitely done her homework. You'll learn about mudlarkers, street urchins, hackneys, London policemen, and more, as she recreates a historic time and place.
This book is perfect for a winter afternoon with a cup of tea and a mince pie! I enjoyed reading it.
Purchase Links:Amazon | Barnes & Noble | iBooks | Goodreads
Author Bio:
Heather Redmond is an author of commercial fiction and also writes as Heather Hiestand. First published in mystery, she took a long detour through romance before returning. Though her last British-born ancestor departed London in the 1920s, she is a committed anglophile, Dickens devotee, and lover of all things nineteenth century.
She resides in a small town in Washington State with her husband and son. The author of many novels, novellas, and short stories, she has achieved best-seller status at Amazon and Barnes and Noble. Her 2018 Heather Redmond debut, A Tale of Two Murders, was a multi-week Barnes & Noble Hardcover Mystery Bestseller. Her two current mystery series are "A Dickens of a Crime" and "the Journaling mysteries."