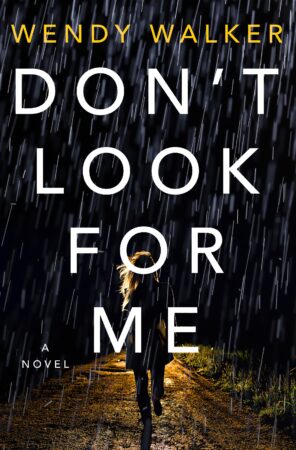 Molly Clarke is on her way back from visiting her son at boarding school when she runs out of gas in the middle of a storm in the small town of Hastings, Connecticut. When a man driving a truck pulls over and offers her a ride she accepts, mostly because there's a little girl in the truck who reminds her of her own younger daughter who died in a tragic accident.
Two weeks later, Molly's older daughter, Nic, doesn't agree with the police and her father that Molly walked away from them. Despite the note left in a hotel and charges on her credit card, Nic thinks something else has happened. But Nic also feels a large amount of guilt for the way she left things with Molly the morning of her disappearance, and is determined to find out what really happened. So when a woman calls and says she thinks she saw Molly get into a truck, Nic heads to Hastings to follow the only lead they have.
Don't Look For Me by Wendy Walker alternates between Molly, as she tries to figure out what the man who picked her up is really up to, and Nic, not really sure who in Hastings she can trust. There are holes in the story of the woman who claims to have seen her mother, and other things that just don't add up. She also has her father begging her to give up and come home.
This book is nice and twisty; I was positive I knew who the man was and I was wrong. There is another surprise at the end that I didn't love, but definitely made the story a little more unique, as far as how things are connected.
Obviously I'm being vague to not give anything away, sometimes knowing there's a twist is a spoiler in itself. But I think it's pretty clear that things aren't always as they seem in Don't Look For Me.