Thanks to STX Entertainment for inviting me, Jennifer, to participate in the press junket for Valerian and the City of a Thousand Planets, in theaters July 21. The studio covered my travel expenses, but all opinions are my own.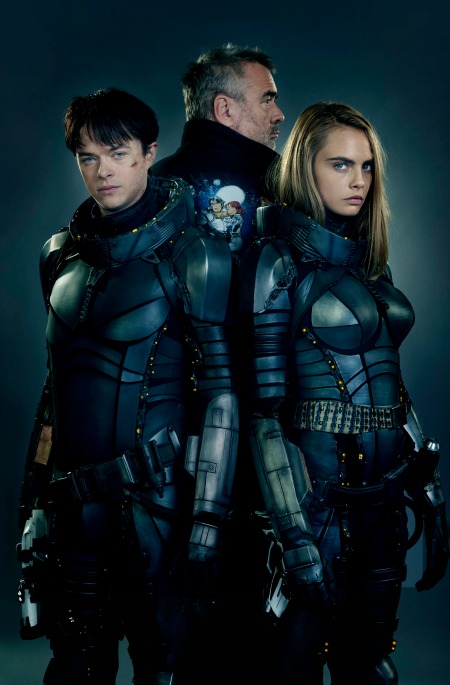 I don't know if all booklovers feel like I do, but my love of the story transcends novels. I can be captivated by a story on the big screen or small screen just as much. Valerian and the City of a Thousand Planets captivated me, and I'd like to share some of that with you. First off, it is actually based out of producer/director/screenwriter Luc Besson's love of a comic book series:
Long before Luc Besson became one of the world's foremost action auteurs — writing, producing and directing a string of iconic hits — he was a young boy transfixed by a comic-book series called "Valerian and Laureline,"which debuted the decade before he happened upon it. Recalls the filmmaker: "When I was 10 years old, I'd go to the kiosk every Wednesday. One time, I found this magazine called 'Pilote.' Inside, I discovered 'Valerian and Laureline.'I thought, 'Oh my God, what is this thing?' That day, I fell in love with Laureline, and I wanted to be Valerian.
I would love it if you checked out my two posts at 5 Minutes for Mom unpacking this film. It's in theaters July 21.
In the 28th century, Valerian (Dane DeHaan) and Laureline (Cara Delevingne) are a team of special operatives charged with maintaining order throughout the human territories. Under assignment from the Minister of Defense, the two embark on a mission to the astonishing city of Alpha—an ever-expanding metropolis where species from all over the universe have converged over centuries to share knowledge, intelligence and cultures with each other. There is a mystery at the center of Alpha, a dark force which threatens the peaceful existence of the City of a Thousand Planets, and Valerian and Laureline must race to identify the marauding menace and safeguard not just Alpha, but the future of the universe.
Starring: Dane DeHaan, Cara Delevingne, Clive Owen, Rihanna, Ethan Hawke, John Goodman, Herbie Hancock, Kris Wu
Directed By: Luc Besson
Screenplay By: Luc Besson
Produced By: Virginie Besson-Silla
Rated PG-13