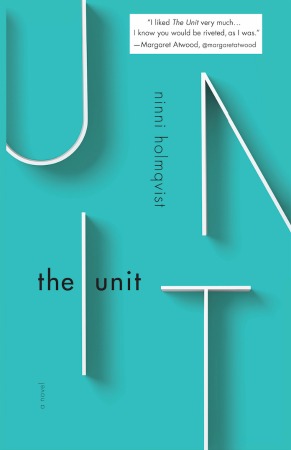 In the author's note at the end of the novel The Unit, Ninni Holmqvist shares a realization she had after turning forty-five:
[…] I was completely dispensable. That if I died, a number of people would actually be sad and would miss me– because I do have friends, and siblings, and nephews, and a mother– but nobody's everyday life would be changed. Nobody would set one place too many at the dinner table by mistake, or out of habit. Nobody would wonder: How am I going to manage now, who's going to take care of me, who's going to support me, who's going to console me when I'm sad?"
This quote is much more than a simple personal anecdote from an author who is single and child-free, for it actually reveals the impetus to her fascinating, troubling, and thought-provoking novel.
Set in Sweden in a time that doesn't seem very far off from our own present-day, this dystopian novel explores what it would be like to live in a society that clearly delineates between those who are needed and those who are dispensable. Once a woman reaches the age of 50, or a man turns 60, if they are unmarried and childless, or not working in one of the categories of imperative careers, they are sent to live in a retirement community of sorts. They are assigned individual lavish apartments within a closed environment with no inclement weather or changing seasons. They have access to entertainment and a wide variety nutritious and delicious dining options. However, it all comes at a price, of course.
All residents soon begin either participating in medical experiments or going straight to the organ donation process, which is their ultimate purpose. As dispensables, their value is significantly lower than those out in the real world who are needed. One by one, their organs are removed and given to others until they are only capable of making one final donation.
In this society, productivity is imperative. Parental leave is granted to both parents in each family for a specific period of time, and following that, child care is compulsory and provided by the state. There is no reason that both parents cannot be a part of the productive workforce. Dorrit says it best, when asked about the meaning of life:
[…] life is capital. A capital that is to be divided fairly among the people in a way that promotes reproduction and growth, welfare and democracy. I am only a steward, taking care of my vital organs. […] I live for the capital, that's a fact, isn't it? And the best I can do with this fact is to like the situation. To believe that it's meaningful. Otherwise I can't believe it's meaningful to die for it."
Reading how Dorrit, the protagonist, deals with her fate was incredibly interesting. Holmqvist writes with a spare tone, and as a result, the narrative reads as cleanly as one would imagine the clinical atmosphere within which the characters find themselves. Dorrit is a straightforward narrator, and her matter-of-fact nature contributes to the immediacy of this story.
I'm thrilled to have been able to read this novel as part of my quest to read one dystopian novel a month throughout 2017. Check out what other novels in this genre have captured my interest this year in my post over at 5 Minutes for Mom.