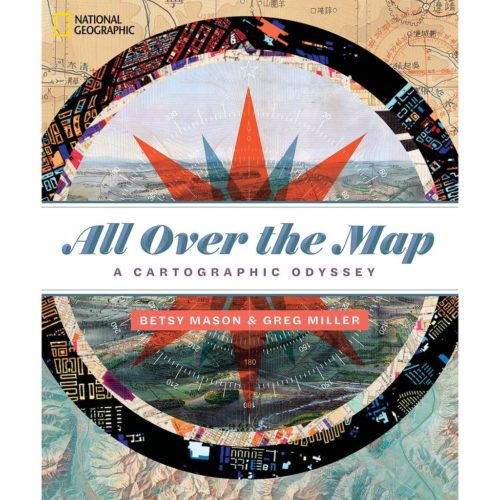 I usually write reviews for novels, so sometimes when I'm writing a review for a coffee-table type of book I feel like I just devolve into a list of adjectives. I'll try not to do that in my enthusiasm for this book. Suffice it to say that this is an amazingly fun book to peruse, although I admit it's not very portable, and definitely not one to bring in the car in case you need something to read (although it would be a good way to make friends in your dentist's waiting room!).
So I'm just going to tell you about some of the maps in this book. First of all, they are gorgeously reproduced. Secondly, they are totally fascinating. You had no idea that people made maps like this, about these things, but once you know they exist, you want to know more.
For example, did you know the Mississippi River used to change course from year to year, and that there's a map showcasing its windings and wanderings? Penned by Harold Fisk in 1944, it looks like snake trails laid one on top of the other. A witty marketing map, titled "Tea Revives the World" and including "fascinating but hard to verify facts" such as "tea is the favorite beverage of the Bantu", actually helped revive the British tea industry after the Great Depression. There's an obscure 15th-century manuscript detailing the upcoming apocalypse and subsequent end of the world (hint: the anti-Christ was supposed to come in 1570) and of course you can view a map of the Death Star. There's a map of an urban smellscape, of the streets of Kiev, Ukraine, as it was experienced on Christmas Day 2016.
The geological maps of the moon are like an abstract painting. The deep blue of the maps of the ocean floor are almost dreamlike. There are 3-D maps of World War II, and a map showing where refugees who fled the fall of Aleppo went. There's a map color-coded to show the ages of Amsterdam's buildings, and another one created by the Soviet regime during the Cold War that shows the city of New York in incredible detail and with thorough annotations.
Have I whet your curiousity? I hope so, because there's so much I haven't told you and you might be getting bored of reading lists of maps. But I haven't even mentioned the map showing only the waterways of the United States (it is a work of art), or the map of Westeros, from Game of Thrones, or the map of Venus, with all her geographical features named for famous and heroic women.
Each map, each double page, includes a description and explanation of the map, its creator and history, and how or why it came into being.
All Over the Map is a truly wonderful book. Christmas is coming so you should get it as a very nice present for someone who lives with you, so that you are doubly blessed (i.e you gave a gift and got to keep it too). Or just go ahead and get it for yourself. It's going on my Best Books of 2018 list. It's fun and informative and beautiful and thought-provoking and educational. What are you waiting for?

Purchase Links