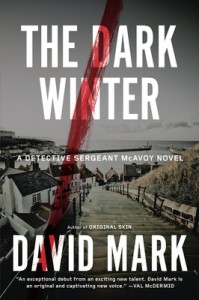 The Dark Winter by David Mark is the first novel in the Detective Sergeant McAvoy detective series, though it often feels as though there were other books in the series prior to it given references to occurrences from before the start of the book. I like having depth of character where important things didn't happen just when I opened the page, but I really also want to delve into the history of Aector McAvoy, as he is a fascinating character.
McAvoy is a Scottish policeman working in Hull, on the English side of the border. It's a seaside town that used to depend on the fishing industry, though it has now dried up and much of the town is depressed. When the sole survivor of a trawler sinking from 40 years earlier is found dead floating in a life raft near the Icelandic coast, McAvoy is dispatched to inform his sister, as the sister's husband is a high ranking Police Authority commissioner. McAvoy is newly back to detective work after recuperating from a vicious attack of a killer he helped to capture a year earlier in a case that also brought down the higher ups in CID.
McAvoy was promised the moon, but the incident was covered up instead, and many in the new unit don't trust him. He's a giant of a man but a puppy inside, which confuses them, as well. When he is sitting in a cafe with his young son just before Christmas, he hears screams from a church across the way and rushes to investigate. He is knocked out by the black balaclava clad assailant who has murdered a single teen acolyte inside the church. In charge of implementing the database and babysitting the phones – duties he's frustrated by – McAvoy continues investigating the murder.
When Mrs. Stein – the wife of the man found dead on the trawler – calls again saying that she thinks there's something "odd" about the death of her brother, McAvoy investigates on his own time. He's torn between his duties as a detective sergeant, husband and father, and need to ensure justice is served in the world where too many police officers – including his senior officers who want his boss's job – simply want a quick arrest.
As McAvoy digs, he finds more links to the puzzles, and it becomes more confusing at the same time. He's a fascinating character, as are so many in the novel from Tom Spink, a retired police DCI, to Roisin, McAvoy's wife, to Trish Pharoah, McAvoy's new boss and more. This is one of those books where I planned to simply read a chapter then put it down and do something else. Except I couldn't. I kept reading "just one more chapter" until the book was over, and I was completely sucked into this debut novel.
The good news? The Dark Winter is now available in paperback, and David Mark's second book in this series Original Skin was released last month. It's one I'm definitely picking up to read, hoping to learn more about all the characters living in Hull.
Written by Michelle who would love to live in England one day, but probably not a depressed port town like Hull. See how she enjoys living in Chicago instead via her blog Honest & Truly! and follow along with her on Twitter where she is also @HonestAndTruly.