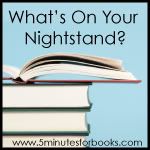 Well, my summer has started off just as I hoped it would. I've gotten in lots of reading time. After reading a few middle grade novels, I got in a bit of a slump, because what was left on my pile was heavier memoirs and fiction, and I wanted something lighter. But then I looked on the shelf that had all the "surprise" books — books I didn't request and thus know nothing about — but that showed up on my doorstep, and I found Courting Greta, which was just what the doctor ordered. I spent many hours over that weekend just looking for a reason to read, whether I was lounging on my couch or floating around at the pool.
What about you? How's your summer reading going? How are the perfect books finding their way into your hands? Write up a little post (or join in in the comments) and let us know!
Looking for ideas? Check out our current giveaways. We have several great middle grade novels and books for you too!