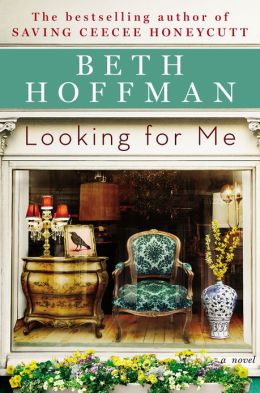 Teddi Overman's family is slowly falling away from her in Looking for Me by Beth Hoffman. She's never quite fit the mold that her mother wished for her, loving instead finding and restoring pieces of furniture even as a young teen. After graduating high school, she leaves the family farm in Kentucky in the middle of the night to head to Charleston and follow her dream of owning her own store selling restored pieces of furniture.
Her father understood, but her relationship with her mother only became further strained as Teddi evinced yet again that she was not the daughter her mother hoped she would be. When her younger brother Josh was 17, he disappeared one night when Teddi was home visiting after having brought home a dog that had been beaten near to death by a neighbor. The mystery of his disappearance was never solved, and the family never fully dealt with his disappearance, Teddi especially believing he was still alive somewhere.
The book weaves between the present of the early 1980s through Teddi's history, the past surfacing throughout the chapters in Teddi's memory as something she does or says or a place she visits triggers it. Beth Hoffman does a great job moving between the various times to give us a true sense of time and place while giving backstory that makes the main tale that much more evocative. It helps draw the characters with a much finer stroke and helps explain so much of their reactions from Teddi's mother's refusal to visit Charleston to Teddi's connection with her missing brother.
After bringing her grandmother to Charleston for a visit, her grandmother fell and broke her hip, electing to stay and live in Charleston rather than returning home – something Teddi's mother also blames on her. Her grandmother is now in a facility, though Teddi visits regularly. Continuing with the story of loss, Teddi's father has passed away, leaving only her mother as her family. While Teddi is home visiting, with the plan to bring her mother to Charleston for her first visit in the eighteen years since Teddi moved away, her mother has a stroke and passes away.
Teddi struggles on multiple fronts with loss – her mother, her father, her brother, with none of them clean breaks that are easily resolved. She has personal and business struggles, as well, as she moves forward with her life while looking back – unsure that she's making the right choices given her belief that her brother is still alive somewhere.
Looking for Me is an intriguing book. Teddi is such a fun character with a strong personality who still has such human doubts and needs for love and reassurance. The book isn't one that has a single plot and focus with an issue to resolve. Instead, it is simply the uncovering of Teddi and her growth and understanding of herself. I don't always understand all her choices, but I definitely respect them as I respect her.
We have a copy to give away to one of you (U.S. only). Leave a comment if you are interested, and we'll announce the winner on June 26. The giveaway is closed.
Check out our current giveaways. Subscribe to our feed. Follow us @5M4B on Twitter or on Facebook.
Written by Michelle who has even more of a desire to visit Charleston after reading "Looking for Me." See what she's doing instead of traipsing the streets of the South as she shares on her blog Honest & Truly! or follow along with her on Twitter where she is also @HonestAndTruly.