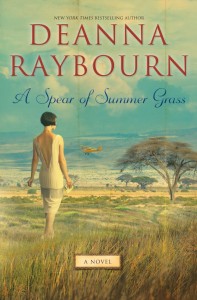 A Spear of Summer Grass by Deanna Raybourn is dripping with the adventure that you'd expect from an African story.
Publisher's description:

Beginning in Paris at the height of the roaring twenties, socialite Delilah Drummond experiences a scandal big enough to make her oft-married mother exile her to Kenya until gossip subsides. As a dissolute expat, she indulges in gin and jazz records, cigarettes and safaris, and in the heart of darkness, she finds a love worth fighting for.
If you blend glamour from The Great Gatsby and romance from Out of Africa, you are beginning to grasp the stunning new novel that is A Spear of Summer Grass.
The writing was evocative and suspenseful, whether the story was tracking an animal or some human drama. The emptiness of that socialite life of the 1920's is almost uncomfortable at times, the shocking excesses in so many fronts looked at as entertainment, but the characters are so well drawn, be they the native Masai, the expats who have settled there and totally assimilated like the wild Ryder or who try to make Africa their playground like Helen.
As Ryder White explains, "Everyone out here has scars. Mine just happen to be on the outside" (page 195).
This was a beautiful story that made me yearn for the opportunity to escape to Africa or a similar wild terrain. Throughout you wonder if Delilah is going to love it or leave it.
Find out more by visiting Deanna Raybourne's Official Site:
Far in the Wilds, a prequel novella, is available for free on Kindle right now if you want to check out the intriguing character of Ryder White. I hadn't seen this before I read the novel, but I downloaded it and can't wait to spend some more time with him.
5 of you will win it
Leave a comment below if you'd like to win and get a taste of 1920's glamour. We'll announce the winners in our June 12 giveaway column. The giveaway is closed.
Check out our current giveaways. Subscribe to our feed. Follow us @5M4B on Twitter or on Facebook.