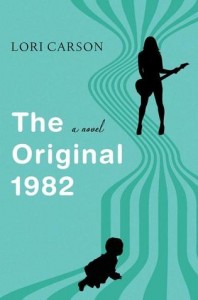 In The Original 1982 by Lori Carson, Lisa is a waitress who wants to be a singer/songwriter. At 24, she hasn't achieved her dream yet, although her older boyfriend Gabriel is making it with his music traveling and touring the world. She's sometimes in tow, though not always as he's admittedly not very faithful to her. When she discovers she's pregnant in 1982, Gabriel convinces her to have an abortion.
In the book, Lisa imagines her life if she hadn't had the abortion, if she'd decided she couldn't go through with it and instead had and raised her daughter Minnow, without the assistance of Gabriel – who of course broke up with her in both the original and "new" 1982. The book splits back and forth between sharing the original version of 1982 and the version that Lisa has imagined would happen as she tells her history to her daughter.
The premise is relatively unique, and the characters are interesting. New York's music scene in the 80s is certainly not one that I knew much about, nor a life I think I'd want to inhabit. The alcohol and drug abuse are rampant and treated casually, even as Lisa tells her story to Minnow. As a mother, I would never be so open about drug use, nor the inability to develop or hold onto a romantic relationship that Lisa demonstrates throughout the book.
I found it interesting that the new version of 1982 with Minnow isn't an idealized, romanticized version. Were I telling the story, it would be one with a happy ending where I found love, had a wonderful and happy family, and my career dreams were realized. Instead, Lisa is far more realistic and gritty. She scrapes to afford her apartment, goes back to work as a waitress while Minnow stays with an upstairs neighbor, and she isn't reunited with Gabriel. Instead, she continues to pine for him, just as she did in the original 1982. Her career takes a back burner to raising Minnow, which is probably a realistic view.
I find myself as disgusted with Gabriel as I'm sure that I'm meant to. That said, I'm not all that thrilled with Lisa. She never comes across as a strong person  and seems to go where the wind takes her with little to guide her other than avoiding the worst choices she could make in a situation because of Minnow. Instead, I found myself identifying with and liking her best friend Alan far better. He drifts in and out of the book, depending on what's happening in Lisa's life, but he's constant and a rock, with a character that grows from 1982 until 2010 where the book ends. Her other best friend, Jules, is the opposite in most ways. She's an actress who has a hit movie and moves to Hollywood but never truly makes it and seems to try to hold on to what she could have been through the smoking and drinking and more, though she seems more a sad figure than anything else as her house becomes smaller as roles dwindle for her.
Oddly, as much as the characters were flawed and as much as the story weren't the one I would tell to an imagined daughter, I enjoyed The Original 1982. It was a quick read, and it was one where I promised myself I'd read "just one more chapter" before bed only to discover that I'd somehow finished the book. As heavy as the topic is, it is still a light read and flies quickly with the writing style.
Written by Michelle who definitely changed her life and her career for her children but wouldn't change a thing. Or so she claims. See what else she claims on her blog Honest & Truly! or by following her on Twitter where she is also @HonestAndTruly.