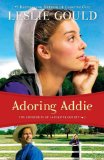 Addie's life is far from picture-perfect. She's the only girl in a dysfunctional family with a mother who sits around and makes lists and expects Addie to do all the work, and has a large crew of brothers both older and younger, providing her extra work and worry. On top of that, Addie's parents have picked out the ideal mate for her–Philip Eicher, the bishop's son. Addie's just not sure she really wants to spend the rest of her life with stolid, safe, clueless Philip though. Then she meets Jonathon Mosier and falls head over heels. The only problem is that Addie's family has a long-standing feud going with Jonathon's family, and her parents won't even hear of them meeting, much less courting.
If you're thinking Romeo and Juliet at this point, you're right. Adoring Addie
is the second in Leslie Gould's Courtships of Lancaster series, in which she takes a Shakespeare play and retells the story in a modern Amish setting. As I said when I reviewed the first book, Courting Cate, this is a brilliant idea, because Amish culture certainly echoes Shakespeare's times more closely than American culture in general. But this is not simply a retelling; Gould takes the essential idea, adds in specific plot elements, but also mixes things up. For example, I don't think it's a huge spoiler to tell you that this Romeo and Juliet have a happier ending that those created by the Bard himself. But I really liked identifying various characters and their parallels–Juliet's sympathetic nurse is played by Addie's aunt, for example, and the fight scene between Romeo and Mercutio and Tybalt has a reincarnation as a fight at a party for the Amish young, attended by young people wearing jeans and make-up. Even the choice of Addie's parents for her, Philip Eicher, is the bishop's son–reflecting well Juliet's parents' choice of Paris, the Prince's son for their daughter.
Addie's heart-broken by her family's response, and is outright rejected by Jonathon's family. The two put their heads together down by the creek to try and come up with a plan. Addie isn't passive either; she searches for what ignited the feud, knowing that only by discovering the truth can the families be set free from their pain and distrust. There are some interesting elements of mental illness too. One thing I really liked about the book was that Addie and Jonathon's relationship is built on so much more than simply love at first sight and some awesome romantic lines. They have plenty to talk about and a lot in common, and their relationship is built on respect and love.
Amish fiction is really popular with many people, but it's a genre I don't read very often. I was attracted to the Shakespeare connection in this series, and enjoyed Courting Cate. Although Adoring Addie
is the second  it stands alone and can be read separately. (I have a theory as to which play she's going to choose next, based on the presence of some annoying twins. How will she manage twin slaves though? We'll see if Comedy of Errors is next.)