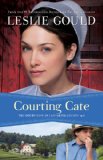 I don't usually read Amish fiction, but I made an exception for Leslie Gould's latest, Courting Cate
. It's a retelling of Shakespeare's The Taming of the Shrew, and I was curious to see what a new adaptation would look like. The Amish setting is perfect, because where else would a modern father refuse to let his younger daughter marry until the older one was married?
Gould has a lot of fun with the character of Cate as an independent young woman living in a community that offers limited ways of self-expression. Cate is the oldest daughter of Bob Miller, a widower who's gained wealth and an international reputation for his beautiful kitchen cabinets. Cate works in the office, where her good head for business has helped her father succeed. Her younger sister Betsy is her opposite in every way. Cate is tall and dark and, well, shrewish, whereas Betsy is small, blonde, and sweet. Cate detests housework and gardening, loves to read and practically inhales books that she gets from the local bookmobile, while Betsy is a natural in the kitchen. Betsy is 8 years younger than Cate, and their mother died the day after Betsy was born. This loss of mothering has affected both girls to varying degrees. Betsy comes across as sweet and pliable, and has a plethora of young men wanting to court her, but she's selfish and spoiled at heart. Cate is sensitive and feels herself unlovable, and responds to teasing by lashing out with great fury.
Enter Pete Treger, a young man who's spent the last year hitch-hiking around the nation. He also loves to read. The sparks fly instantly between the two of them, but Cate's not interested in risking her heart. Ironically, she ends up risking much more. This modern-day retelling is told from Cate's point of view, and we see the hurts that have made her "shrewish" and quick to take offense and put the worst possible interpretation on a situation. But we also see her character change and grow in a natural way throughout the book. I must admit I've always thought Shakespeare's play a bit far-fetched; Gould's Cate is much more realistic!
Gould has done her homework, and I learned quite a bit among Amish lifestyles from reading this book. I really enjoyed seeing her incorporate details from the play into the book as well as fleshing out Cate's own community and story.
If you're someone who enjoys Amish fiction, you'll definitely love Courting Cate
. But even if you typically avoid books with a young woman in a Kapp on the cover, you might want to give this one a try. It transcends genre, and ends up a moving story of love.