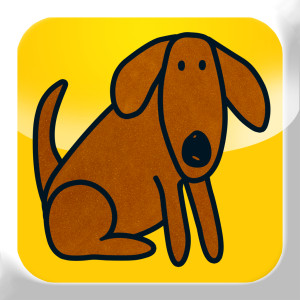 The times, they are a changin'. Growing up, my mom used to put me in front of the television to watch Sesame Street or Electric Company and tell herself that it was educational as the hours ticked by. Nowadays, parents are just as likely to hand over an iPad or an iPhone to Junior, often with little educational content included. Play and Learn from Priddy Books is aiming to change that.
Priddy Books is a well-known publisher of educational children's books from baby through preschool. Their books are designed to spark senses and develop awareness of various age-appropriate skills. The preschool books are created to be wipe clean books so that children can use them repeatedly. Priddy Books recognizes that physical books are not always the way that children learn and interact and has created a Play and Learn app to create a fun and educational app that will appeal to preschoolers through first graders.
As a parent with a vested interest in children who love to read, I appreciate how the app is set up to build upon skills and increase in complexity as children have achieved mastery in skills. The My First Spelling game (a $3.99 in app purchase that is currently on sale for $1.99) has a variety of games within it to entertain the beginning reader.
There is a matching game where you have to play a version of memory with six cards to match letters, something that even non-readers can accomplish. It also includes more challenging activities that ask you to spell simple words like "pot" or "nut" or "cup" by dragging them into a word box. Touching the letter tile provides the sound it makes, so it's reinforcing the potential for language and reading even in a child who isn't quite there yet. There is no "wrong" consequence with the letters simply returning to their spot if they are incorrect. There is a simpler version of that, as well, where you simply need to drag the first letter of a word into the box, which is easier for early readers, as are the games where you simply need to identify the first letter of various words like "car" or vice versa, identifying words that start or don't start with a particular letter.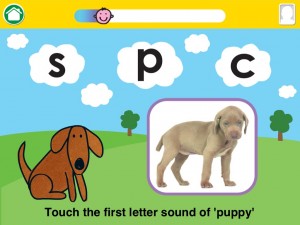 There are other games, as well, that introduce counting, colors, math, and more. I would like to see each game in the app be customizable to a level of proficiency. If my child can identify that "sun" starts with "s" but isn't quite ready to spell it yet, I'd like to not have that question be part of the game, but currently they all simply rotate with no customization.
On the plus side, there is a great parental review section of the app. Not only can you assign multiple users so that you can allow each child their own avatar, but you can track the progress. You can see which activities they did and how recently. It also includes how well they scored, which really gives you a sense of whether they understand it or whether they were simply guessing and might need a little assistance from you the next time they work on it.
In my world, games and apps will never replace books. There is definitely a place for them, and Priddy Books has done a wonderful job in translating their captivating and interactive physical books into the iPad and iPhone realm.
Win it:
Head over to 5 Minutes for Mom to read more about the specific game apps included in Play and Learn with Wallace. You can enter to win a $10 itunes gift card to get some of the games, as well as some Wallace storybooks for your bookshelf. You must follow the instructions in the rafflecopter over there, but if you do that, you will also earn an entry for commenting on this post, so before you head over to read my post at 5 Minutes for Mom, be sure to leave a comment here first.
Check out our current giveaways. Subscribe to our feed. Follow us @5M4B on Twitter or on Facebook.
Written by Michelle who is grateful that she no longer has to help the wee ones count five ducks. See what she and the wee ones are focusing on via her blog Honest & Truly! or follow along with her on Twitter where she is also @HonestAndTruly.