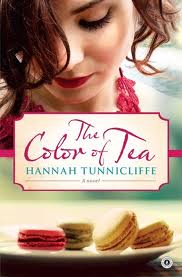 I pulled The Color of Tea
off the new arrivals shelf at the library during a quick scan before catching up with my son in the children's section. The lovely front cover caught my eye first, and then words like Macau and café and macarons jumped out at me from the back cover, making me think this might be an enjoyable read for one of the last weeks of summer. I hardly expected a random pick to turn out to be such a wonderful excursion, not only to a foreign land, but into the human heart as well.
Grace Miller arrives in Macau with her husband Pete, who is in charge of construction on a new casino. They have no children, although not for lack of trying, and shortly after their arrival, Grace receives the news that her chances of becoming pregnant are gone, chased away by premature ovarian failure. Worn out from the battle with infertility, she sinks into a depression that even Pete can't break through.
She is eventually drawn back into life and rediscovers her love of food, culminating in the opening of Lillian's, where she sells coffee and tea and sandwiches and, most especially, the delicate macarons that her mother introduced her to years ago when they lived in Paris. As she opens herself up to the life she is making for herself with the café, she begins to develop friendships with some of the women who cross her path, as well as exploring her troubled memories of her mother.
It is not clear whether her marriage will revive in the same way as the other areas of her life, but the stress of avoiding the pain they have both been through finally pushes both Pete and Grace to the breaking point, forcing them to decide whether they will turn towards each other or walk away completely.
I love so many things about this book that it is hard to know where to start. The setting is exquisite, both in terms of the sights and sounds of Macau and the textures and aromas of the café. The characters are richly drawn and revealed gradually as the relationships deepen, so true to life. Even the male characters show us multiple facets of their personalities, rather than being relegated to the background of the women's lives.
Although I do have to admit that I am weary of the seemingly ubiquitous bipolar mother in contemporary novels, Tunnicliffe handles Grace's memories of her mother in a way that isn't too maudlin or self-pitying, with Grace composing imaginary letters in her head to her mother like a sort of journaling. These compositions serve as a reflection of the journey Grace is making towards owning her own life and being open to the possibilities of good things coming out of bad.
I feel like I have only scratched the surface in trying to convey how much this book has touched me, and I can only hope that you will pick it up and discover it for yourself. As you might imagine, I am enthusiastic enough to list The Color of Tea
as one of our 5-Star Reads, which we reserve for those titles that rise above the rest for one of us.
I'm curious, have you ever found a treasure through a random pick? How do you decide whether to take a chance on a book that is just sitting on the shelf at the library or the bookstore? Leave a comment and let me know.
Trish is on her own journey on finding the good after the bad. She shares about autism, books, and daily life on her blog In So Many Words.
Don't Miss Some of These Other 5-Star Reads