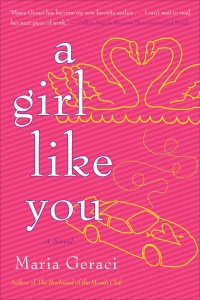 If you're not quite ready to let go of summer, A Girl Like You
by Maria Geraci is the perfect book for you. This fun romance centers on Emma Frazier, a talented and hardworking writer for lifestyle magazine Florida!, who just happens to have a major crush on her boss, Ben Gallagher. Everything seems to be moving in the right direction until Emma overhears herself referred to during a night out as "the ugly friend," as in a person someone brings along so they will appear more attractive in comparison.
This blow to her self-esteem leads Emma to promise an interview with Trip Monroe, a NASCAR legend who just happens to be from her hometown. Unfortunately, actually getting the interview ends up being quite a bit harder than she thought. As Emma pursues Ben (romantically) and Trip (professionally), she uncovers long-hidden secrets that lead her to question some of the things she has always believed about herself.
The characters in A Girl Like You
are well drawn, with her coworkers and a few close friends filling the scene in Tampa, and her two moms as well as an old friend, who is now pursuing her, rounding out the cast back home in Catfish Cove. There is also a lot of action as Emma travels back and forth from Tampa to Catfish Cove, with some side trips as she becomes more worried about whether she will be able to deliver the promised interview for the upcoming issue of the magazine.
Although the tone of the book is light and fun, the plot stays realistic even where it would have been easy to veer off into the direction of a farce, which I appreciated. Emma has the opportunity for some reflection and personal growth in the process, which is also handled with a deft touch to keep it from becoming overly serious.
I highly recommend A Girl Like You
to anyone looking for a light, engaging end to the summer's reading. You can learn more and even read an excerpt at Maria Geraci's website.
I'm curious, what was your most enjoyable read this summer? Leave a comment and let me know.