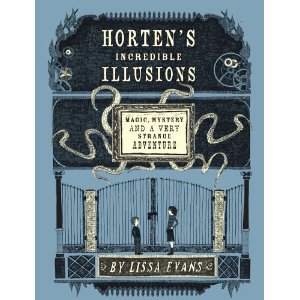 Last month I fell in love with Stuart Horten and the other delightful characters in Lissa Evans Horten's Miraculous Mechanisms. I couldn't wait to read the second in the series, and I hoped that it would hold up, because there's always the danger that the second one won't. Please click through to read my review of that first book to see why I love Horten so much. And keep reading here to see if the sequel lives up to the 5-Star standard set by that one.
There are ways in which Horten's Incredible Illusions: Magic, Mystery & Another Very Strange Adventure is better than the first. There's more excitement and adventure which is something that always make a book better to my kids. However I do think that it lacks some of the charm that made me fall head over heels with the characters in the first one. Since I had read the first book, the warm feelings carried through, if that makes sense, but for that reason and to insure that you get the whole background of the fun story, I'd definitely recommend that you read the first one first.
In Horten's Incredible Illusions, we get more of April (and even May and June), the nosy triplet girls next door who make perfect partners to Horten's plans (even if he wouldn't necessarily agree).
This book picks up pretty much exactly where the first one left off. Uncle Tony's illusions have been found and are on display at the Beeton Museum. Stuart has been asked to be a junior curator, and of course April is there beside him every step of the way to cover the story. As they are trying to figure out the magic tricks, they uncover a message from Uncle Tony that they have to decipher. On top of that, Stuart gets a strange call from someone wanting to buy the tricks. But first, Stuart has to find Uncle Tony's will to prove him the rightful owner.
Finding the will requires mastering each illusion, and when he does that, he's transported to a magic place where he has to solve a puzzle to get back out and also to collect a part of the clue.
This is a story full of action and suspense, surprises, suspending reality and lots of magic. I highly recommend these two books to lovers of middle-grade fiction of all ages.
You can buy this book now on amazon or at Barnes and Noble.
I'm happy to report that the publisher has offered one of you a chance to win Horten's Incredible Illusions (U.S. shipping addresses only). Just leave a comment below, and we'll announce the winner in our giveaway column on September 5. The giveaway is closed.
Don't miss a thing: Check out our current giveaways. Subscribe to our feed or video reviews on YouTube. Follow us @5M4B on Twitter or on Facebook.

Jennifer Donovan still enjoys reading middle grade fiction, and will probably continue to enjoy it even after she doesn't have a middle-grade reader in her house. Now that her daughter is in high school and has left the demographic, she's pleased to share books like this with her 3rd grade son. She blogs at Snapshot.