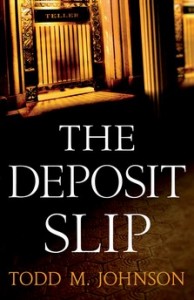 In The Deposit Slip, the debut novel by Todd M. Johnson, Jared Neaton is a lawyer looking for his breakthrough case–that is, the case that will bring in enough money to keep his fledgling law firm from going under before it really gets started. He thought he had found it, until a big loss in the courtroom left him struggling to make ends meet. Just as he is wondering if it was such a good idea to leave the big firm and strike out on his own, his old mentor calls with a mysterious referral that promises a very large payout, if he can find the truth and win the case.
It seems that Erin Larson, in the course of settling her late father's estate, has found a bank deposit slip for over $10 million dollars. He had never mentioned the money to her, and the bank insists that no such deposit was ever made. Her first lawyer has dropped the case, and threats of being run out of business have kept the rest of the lawyers in her area from agreeing to represent her. Mystery aside, Jared is loathe to take the case mainly because it is in his hometown, where his father lives and which he has been avoiding for years. After meeting Erin, however, Jared is intrigued enough to sign on as her attorney.
As things progress, Jared is faced with the question of how far he will go to find out the truth behind the deposit slip and, even more frighteningly, how far his opposition will go to keep the truth from coming out.
Throughout the book, Johnson gives us a detailed look into how winning a court case – or even getting it to trial in the first place – can hinge on such tenuous factors as the personality of the judge or the ability to present a flimsy argument in just the right way. And while I don't know how many attorneys employ such underhanded practices in real life as the bad guys in this novel, their machinations certainly make for a lot of interesting plot twists!
While the main storyline centers on the court case, The Deposit Slip also gives us a picture of how Jared negotiate the fractured relationship with his father and wrestles with the choice of whether to forgive him for the past. All in all, an enjoyable read with a good balance of character and action.
We are pleased to have one copy of The Deposit Slip available as a giveaway (US or Canada mailing addresses). Simply leave a comment if you'd like to win. We'll announce the winner in our giveaway column on August 22. This giveaway is now closed.
Don't miss a thing: Check out our current giveaways. Subscribe to our feed or video reviews on YouTube. Follow us @5M4B on Twitter or on Facebook.