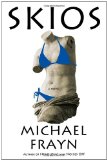 The tastefully discrete Nikki is in charge of arranging the speaker for this year's lecture at the world-renowned Fred Toppler Foundation, an event attended by dignitaries and luminaries from the worlds of academia, finance and industry alike and held on the Greek island of Skios. She goes to meet him at the airport, where she stands holding a sign that reads "Dr. Norman Wilfred." When a youngish blonde charmer catches her eye and smiles, she smiles back. "Dr. Wilfred?" she inquires. "I cannot tell a lie," he responds.
Meanwhile, Nikki's friends Georgie has arrived for a rashly-planned weekend with a charmer she met in a bar on another Greek island. He fails to show, but she finds herself with a disheveled and discombobulated academic named Dr. Wilfred, who has lost his luggage and thrown his phone into the swimming pool in a fit of pique and is completely out of his depth at the loss of his identity, powerless to explain to Georgie where he's meant to be.
This is the set-up of Skios
, the latest novel by Michael Frayn, which follows the adventures of Nikki, George, Oliver (the rakish blond charmer) and Dr. Wilfred through miscommunication after miscommunication. Oliver has to pull off being a specialist in scienconomics–the scientific order of science, which he does by making seemingly simple pronouncements on empty coffee cups to an adoring audience, one or two of whom most definitely don't recognize him. Meanwhile, everybody is carrying out his or her own private agenda–from the head of the Fred Toppler Foundation to the taxi drivers.
It all comes to a head on the night of the lecture, when all the major players converge onto the Foundation's grounds in what promises to be a head-spinning denouement. I must admit that while I enjoyed Skios
, I was a bit disappointed at the ending, which wasn't nearly as satisfying as I was expecting. That's a personal judgement though, and others have proclaimed it lots of fun.
Skios
is a farce that sends up everyone from social climbers to academics to sun-seekers. It's good fun, and a delightful read.
Elizabeth wouldn't mind giving a lecture if it meant a holiday on a Greek island. Learn more at her blog Planet Nomad.