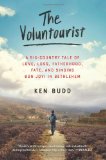 Author Ken Budd was dissatisfied with his life. The sudden, unexpected death of his father  left him adrift, comparing his own life to his father's and coming up short. He really wants kids but his wife Julie, a woman he loves and is absolutely committed to, is adamant that she does not. He looks at his dad's philosophy of life, that of giving back to the community, a man who encouraged others to be better than they were and who invested in other people. Budd says, "It's not…dying that bothers me. It's dying without making a difference in the world." (15) It's while he wrestling with this that an email lands in his inbox, inviting volunteers to spend a week helping rebuild and clean-up New Orleans in the aftermath of Hurricane Katrina. Budd responds. And from that, an idea is born. Budd ends up spending the next year of his life giving back in various communities around the globe, though a concept called "voluntourism."
The concept is simple, combining volunteerism and tourism. Instead of paying a lot of money to cruise Greek Islands or visit the top of the Eiffel Tower, you pay a lot of money to go someplace and work. The options are endless. Help build hiking trails in Alaska. Hug orphans in Uganda. Count birds in Ecuador. Teach English to the Bedouin. Build and/or paint a school in an impoverished community in Bangladesh.
The Voluntourist
follows Budd on his adventures to 6 different places. After his first stint in New Orleans, his appetite is whetted. He and his wife, Julie, go together to Costa Rica to teach English in a school for a couple of weeks. With a group of other volunteers, they're thrown into it, sent to a school where no one–not even the principal–speaks English, and where they have to prepare their own lesson plans. (Having taught in developing countries myself, this doesn't surprise me. Remind me tell you about my first day at the University of Nouakchott sometime.) They muddle through, getting better as time goes on. Much relief and support is provided by others on the same trip, thrown into similar circumstances. Budd takes time to introduce us to other volunteers each place he goes, and that provides some of the funniest parts of the book. (I hate to be judgmental, but it's in Costa Rica that a nice girl from the Midwest asks an Englishman if they have cows in England. This make me simultaneously laugh and groan. I, too, have met these nice Americans who are so poorly educated about the world outside their own towns that you're simply embarrassed for them. I've met Mauritanians with similarly small world views but they have a much better excuse, since they grew up in a tiny village in the middle of the Sahara with no electricity).
One thing that makes The Voluntourist
such a readable book is that it's more than simply a list of places this guy went. He includes a lot of personal reflection, stories of his father, and descriptions of daily life in various places. He's self-depreciating and humourous. When he first arrives in New Orleans, he's talking to the head of Rebuilding Together who asks him what skills he has. "My 'skills' are basically limited to this: 1. Sarcasm 2. Spinning a basketball on my right middle finger for upwards of 10 seconds 3. Quoting large sections of old Simpsons episodes." (18)
After Costa Rica, Budd and his brother-in-law, Tom, go to the city of Xi'an, China, where they work with severely autistic children at a school for special needs kids, founded by one of the mothers. At the school, no one speaks English. (Seeing a pattern?) Budd and Tom muddle though, providing some much-needed help for the overworked teachers.
Next, Budd goes to Ecuador with Earthwatch to do an environmental project, where he faces the limits of physical endurance high in the Andes and sees some incredible sights. Then he goes to Palestine, over Christmas, which means he's also misses Julie's birthday. This chapter starts with the scrutiny he receives at an Israeli airport because he is on his way to Bethlehem. Ironically, here many people speak English. Budd works with Volunteers for Peace, doing various activities like cleaning streets or building rock walls in olive groves to help with irrigation. During this stint, the volunteers meet local families and spend time in their homes.
Finally, both Ken and Julie go to Kenya to volunteer at an orphanage. They stay with a woman named Karimu and her children, plus her niece that she's raising, and walk daily to Calvary Zion Orphanage, where the children are mostly AIDS orphans or the abandoned children of sex workers. The orphanage was started by a local woman named Jane and is staffed by locals also, and various volunteers that pass through do practical work, like helping clean, do laundry, cook, and change diapers.
I really enjoyed The Voluntourist
. Budd's a good writer, and I appreciated his ability to make his readers hear, feel and even smell the environments in which he finds himself. I know that short term trips often do more for the one going than those on the receiving end, but Budd knows that too, and he doesn't fool himself but honestly faces up to the issue. The Voluntourist
is a great read for anyone who enjoys travel memoir, and who is open to being inspired to look at different ways to give back.
Have you ever traveled as a volunteer? If so, please leave a comment–I'd love to hear about your experiences.
Elizabeth has hosted voluntourists herself, although she didn't call them that–short-term volunteers at the English centre she worked at in Nouakchott, Mauritania. Learn more of her adventures overseas at her blog Planet Nomad.