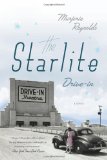 The discovery of human remains at the old Starlite Drive-In theatre brings up in razor-sharp detail the events of the summer of 1956 for Callie Anne Benton. The drive-in bounded her world and that of her parents—her father managed the place, out in the country several miles from the nearest town, and her mother, suffering from agoraphobia, never left their house, situated on the property. Callie Anne occupies herself with catching frogs at the nearby creek and watching movies in the soundbooth with her father until she has them memorized. But, the summer that she is nearly 13, everything changes.
The arrival of a drifter named Charlie Memphis, hired to help her crippled father with maintenance, throws a stone into the placid waters of their lives. He's handsome, a stranger, and treats Callie's mother, Teal, with appreciation—something she doesn't get from her husband. You can feel the attraction cracking between them, and it's a wonder that Callie's father doesn't start worrying sooner. Callie is also growing up, in that awkward stage between tomboy and young woman. She's got a crush on Virgil, the high school boy spending his summer working at the drive-in, and a crush on Charlie Memphis too.
One thing I loved about The Starlite Drive-in
was how well the characters were fleshed out. People may tip the scale to the side of "good guy" or "bad guy" but, as with their real-life counterparts, they are a mix of both. The Starlite Drive-in
is packed with detail; reading this book is a sensory experience. You can easily picture settings, people's outfits, expressions. I feel as if I would recognize them on the street.
And although the discovery of just whose bones they were won't be a total shock, the joy of this novel lies not in the revelation of a mystery, but in the journey to get there—a path filled with sun-splashed afternoons, first love and painful revelations, and a woman who made an unexpected choice and had the backbone to keep on with it.
Highly recommended. The Starlite Drive-in
by Marjorie Reynolds is haunting and evocative, the kind of novel that stays with you for a long time. I give it 5 stars.
We have a copy to give away to one of you, thanks to the publisher! Just leave a comment here, and we'll announce the winner in our giveaway column on February 1. This is open to U.S. and Canadian addresses. This giveaway is now closed.
Don't miss a thing: Check out our current giveaways. Subscribe to our feed or video reviews on YouTube. Follow us @5M4B on Twitter or on Facebook.

Elizabeth is glad she never has to be 12 again, but she still enjoys reading of other's travails. Learn more at her blog Planet Nomad.