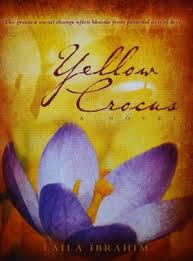 "Mattie was never truly mine." It is with these deeply profound words that the story of Elizabeth Wainwright in Yellow Crocus: A Novel by Laila Ibrahim begins.
As Elizabeth is making her entry into the world, Mattie is being pulled away from hers. While Elizabeth's mother, the young mistress of a Tidewater plantation in the Old South, is feeling her first childbearing pains, Mattie, one of the field slaves, is being taken from her own infant son Samuel to nurse the new baby instead.
Elizabeth bonds deeply with Mattie, so much so that she becomes ill to the point of death when Mattie is taken from her due to the arrival of the next Wainwright child. Elizabeth's mother, in her first and perhaps only act of defiance against her mother-in-law, puts her back into Mattie's care, where she remains for many years to come.
Meanwhile, Samuel is being raised by his mother's grandfather and her friend Rebecca. For the first few months of Elizabeth's life, Mattie can only hope to catch a glimpse of her son from the nursery window when he is being taken back and forth from Rebecca's. She is eventually given the opportunity to visit him on Sunday afternoons while another house slave cares for the baby and, later on, actually spends some time with him while she is caring for Elizabeth.
I hesitate to share more about the story because it is hard for me to write about the way this book affected me without taking away from the experience of you discovering it for yourself. Yellow Crocus is a stunningly written tale of life during this time, with characters that you can almost see and hear and a plot that feels like a true story which has been handed down through the generations.
Ibrahim contrasts for us two societies, separate but intertwined: one, a society where the favored elite seem to have everything they could want but live their lives constrained by rigid roles of their own making and avoid any real connection, and the other, one where individuals, despite being dehumanized and forced into servitude by the elite, embrace their ability to love and rely on one another through it all.
Ultimately, it becomes a story about knowing what we value and how we can share those values with others even in the most difficult of circumstances. For all of these reasons, I am including this as one of our 5-Star Reads.