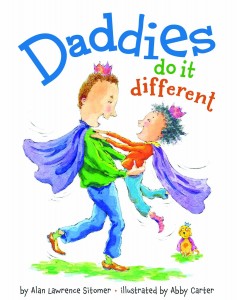 In year's past, I've wrapped a picture book or two for one of my children to present on Father's Day, a symbolic gift of special times between them. Alan Lawrence Sitomer's new picture book Daddies Do It Different depicts a wacky daddy whose silly antics just might hit close to home for some families.
From getting dressed, to going grocery shopping, to just playing around at home, the curly-haired little girl in this story recognizes the different ways her parents approach every day situations. While her mommy tends to be more organized and orderly, her daddy has a unique way about him that makes her giggle often. While I would have preferred the father to have been shown demonstrating a bit more responsibility in at least one scenario, I can clearly see the joy that the girl and her father have together. In several of the colorful, busy illustrations, both Mommy and Daddy can be seen spending time with their daughter in fun family environments– playing at the park, cooking in the kitchen, and preparing for bedtime. No matter their individual parenting styles, it's obvious that this family loves each other.
This Father's Day, you can recognize the silly Daddy in your children's lives with the fun picture book Daddies Do It Different. In addition, you can download a special Father's Day card with artwork from the book. Let the giggling begin!
We have one copy of Daddies Do It Different, signed by the author Alan Lawrence Sitomer, for today's giveaway. Leave a comment here to be entered, U.S. and Canada mailing addresses only, please. We will announce our winner on June 20.
This giveaway is now closed. Thanks to all for entering.
Don't miss a thing: Check out our current giveaways. Subscribe to our feed or video reviews on YouTube. Follow us @5M4B on Twitter or on Facebook.