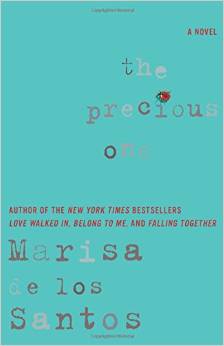 I'll admit something weird about my reading habits. I really don't read book jacket summaries. When I'm pitched a book, I read the description to decide if I like it, but once a book arrives, I assume I like it, and in the weeks or months that go by between me deciding I'd like to read it and actually reading it, I usually forget. There are exceptions to this rule. If I see a new book by an author I know I've loved, I don't even read the description. I just go for it. So I really had no idea what Marisa de los Santos' newest book The Precious One was about. No idea. The book cover is stark and what is that red blotch? What could that mean? Oh, it's a lady bug. After reading the book, I still don't really know what it means.
What I do know is that this is an amazing novel featuring characterization so rich that it defines character-driven fiction. That said, there's a definite story arc, in which Taisy Cleary is summoned to her estranged father's home after he has heart surgery. She hasn't seen him since college, when he summarily dismissed he and her brother from his life forever. She goes, because she's never been able to tell him no, to give up on the dream of a loving father, and she's curious why he's asked her to come.
When she sees him, he certainly doesn't seem to want to make amends. He's used to people — even his estranged family members — doing as he wishes, and so he gives Taisy a task which he knows she won't refuse.
Taisy is also curious about her father's (or just "Wilson," which is all her brother Marcus will ever call him) relationship with his daughter Willow and his wife, spacey artist Caro, which seems genuinely loving. Taisy hasn't seen 16-year-old Willow since her first birthday when the relationship-ending blow-up occurred. She's beautiful, tall, mature, and she resents Taisy.
The story is told in alternating chapters from Taisy's and Willow's points-of-view. Willow is such an interesting character. She's dealing with her enrollment in school for the first time ever, her father's wish as he recovers from surgery. Her intelligence is off-the-charts, but since she's spent very limited time with her peers, beyond very short stints on athletic teams and a homeschool group. So high school is a challenge. Her second conflict is Taisy. She is not used to competition for her father's attention.
I don't want to give anything away, but this novel took twists and turns that I never would have anticipated. Taisy wants to use her time there to find out more about her father and sister and even her stepmother, and she does, both by digging into their past and by investing in them in the present.
This is masterful storytelling at its best. I loved every page, every character, every twist, so I'm adding it to our 5-Star Reads. Please check out all our 5-Star Reads, sorted by year and genre.