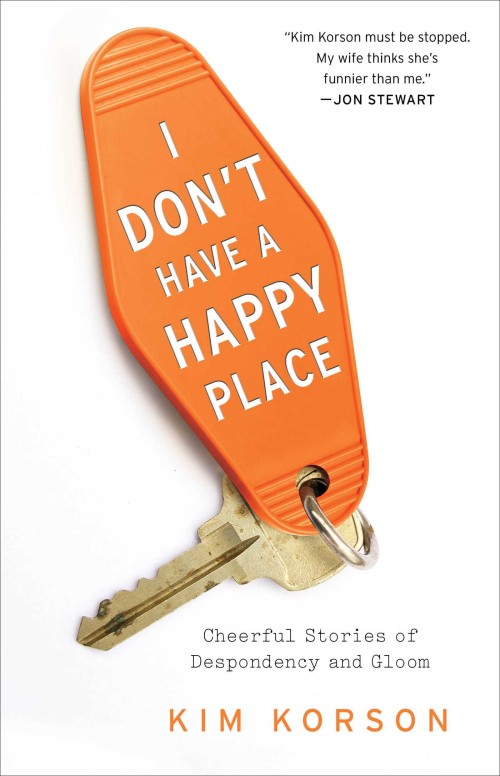 For some reason, the book reviews that are the hardest to write are for the books I love the most. This is doubly true when the book in question is a memoir, because then I can't fall back on the tried and true method of summarizing the first few chapters as an introduction to the review. So I'm going to start by telling you that I have found my own true twin soul, and that she is as curmudgeonly and anti-social as you suspected she might be. But happily, she is all razor-sharp wit and delightfully cynical, except for that creepy part where's she expressing all my inmost snarky thoughts and weren't those mine? What is she doing in my head?
Kim Korson's new memoir takes all our dirty little secrets and owns up to them. How we didn't have the energy to live up to our full potential and sort of slouched our way through life, doing the absolute minimum we could get by with, and how although we wanted people to like us, we secretly had a bad attitude a lot of the time. She describes herself as a malcontent, someone who can find the dark cloud behind every silver lining. When she's not describing me, she's describing my husband. (since I have my non-cynical moments. No really. Sometimes)
Kim Korson grew up in the 70s envying her Barbie-owning friend (I wasn't allowed Barbies either, Kim. Weren't the Sunshine family creepy?) who had the babysitter who drowned. She was a latchkey kid who was happy to stay indoors and snoop. Her description of her meeting her future husband and the story of their engagement had me practically on the floor. "This is our story?" she says in disbelief, of the way they sort of drifted together, and apart, and together again. But her story is cooler than she realizes–she'd just broken up with him and was crying grape-sized tears curled up on the bed of a remote resort in the Mexican jungles, while developing a tooth abscess and diarrhea. He knew her well enough to propose to her anyway.
Kim makes lists of words she hates. (I do this too) When her grandmother dies, she has to wear a pair of black pants that she bought for a job interview and never got around to having hemmed so they scuff the floor when she walks. (I totally, always do this, and I'm short so it's a problem. I thought I was the only grown-up this disorganized, but Kim is too and she's an author so I feel justified.) She's Jewish but loves Christmas. When a therapist asks her, "Why can't Kim be happy?" she turns it into a mantra.
The thing is, her life isn't all that bad viewed objectively from the outside. It's true that her father wears make-up (sometimes) and her babysitter doesn't drown, it's true that her brother refuses to become an arsonist so she'll have reason to be depressed, it's true that her family is depressingly normal except for hidden mental problems, nothing like her friend Nathalie's abusive lumberjack of a father. She achieves moderate success (I think; she may have actually been quite successful and be downplaying it) in show business by doing the minimum amount of work, and manages to move her family from Brooklyn to an idyllic area in rural Vermont, where she switches from googling crime stats to googling wild animal attacks.
I Don't Have a Happy Place: Cheerful Stories of Despondency and Gloom
is a testament that not everyone needs to be sunny, perky and extroverted, out running the world in successful hair and coordinated outfits. It's a paean to the morose, the misfits, the malcontent who are happy enough just being left alone to watch reruns on TV in their cardigans. It's also hysterically funny, and I loved it. I've been telling everyone to get themselves a copy. You should too.
Ironically, in a review for a book about happy places, I lost mine this evening. I had just finished writing my review and I was happy with it when my computer delivered me an error message and it all disappeared. This review is but a pale substitute, which feels like it should be apt but really isn't.