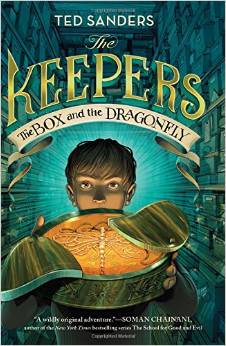 I wasn't sure what this book was when the Advanced Readers' Copy arrived at my house months ago. It came in a cool cardboard box, which always adds interest, and the copy was somewhat ambiguous to me. Was it a kids' book (I thought so), or Young Adult? Adult? It did talk about crossover appeal, so I guess they weren't trying to be too specific. I researched and figured out that I was right and it was a 10 and up sort of novel. The whole package interested my 10 year old, and he picked it up and read it months before its late March release. He loved it and kept asking me if I had read it. When I did, I highly enjoyed it too.
Horace was riding the bus one day, when his eye was drawn to a sign with his name on it! He had to explore further, and he wound up in the House of Answers, full of all sorts of unusual and ordinary items. After answering some questions, Horace is given a mysterious box which he knows is very important. In this box, he can see the future. As he is learning to use it, he runs into another girl, Chloe, who also has a mysterious item that gives her an unusual power.
Their friendship is sweet, but it also gets them in a bit of trouble. As they find out more about their powers as "Keepers", they end up in a battle between two factions. They aren't quite sure who is good and who is evil, but when Chloe's father gets involved, Horace stands by her and together they fight to free him.
It's one of those novels that has a timeless adventurous feel. There is great mystery and imagination and excitement, but also lots of feeling. Some of the early scenes, and then those right at the end, between Horace and his mother were touching. They have a realistic and deep relationship. Horace sums it up this way (ARC, pp 33-34):
One of the things Horace liked very much about this mother was that she didn't treat him like a child. Not that she pretended he was an adult — it was just that she was honest about the differences between them. Once, when he'd given up on their weekly chess after losing too many times, she'd send him a card in the mail. He still had it. Inside, she'd written:
If smarts were a race, you would have no hope of having caught up to me yet. Not because you're slow, or because I'm fast, but because I happen to have a huge head start. It's not fair or unfair, it's just the way it works. One day you'll be where I am now — and beyond.

Please let me know when you're over it. I do miss playing with you.
This is the first in a series, and while it was a perfectly satisfying read on its own, the ending (which my son loved because it was so exciting) definitely opened up some questions that I assume will be explored in the next book.