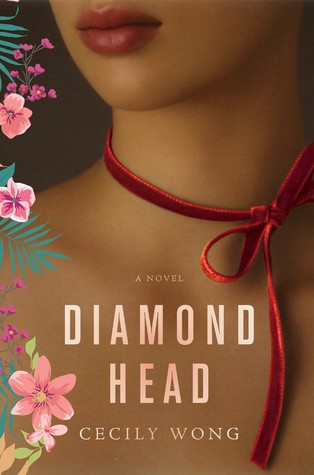 The red string of fate, connecting individuals who are perfect companion matches, is an idea of Chinese legend, and one with a dark side, too. In addition to celebrating the destiny of love between two people, it also carries punishments for mistakes an individual makes when it comes to love. Each mistake becomes a knot in the string, and those knots bring pain and suffering to not only the individual, but down the family line, as well. Cecily Wong builds the novel Diamond Head around this idea, across three generations of a Chinese-Hawaiian family.
Frank Leong moved his family from China to Oahu, Hawaii, at the turn of the 20th century, a fresh start in reaction to business and political troubles in China at the time. His wealth and success blossomed in Hawaii, and his family soon became well known on the island. But there were secrets and lies that followed him, and even in their dormancy, bad luck seemed to be the result for generations to come, including Frank's own mysterious murder. Frank's granddaughter Theresa, pregnant and unmarried at eighteen, is slowly coming to discover all the pieces of truth that her family has kept quiet for over sixty years. She may be able to help the remaining women of the family come to terms with what they believe to be all the knots on their red strings, but it will require them all to contemplate what they believe about fate and free will, and the decisions they've each made in their lives in their family and personal relationships.
Lest this all sound salacious and tabloid-like, let me clarify that the tone of this novel remains serious and emotionally vulnerable, as it switches between perspectives of the women of the family. It's hard to judge these women harshly when considering their positions of subordination, as women in their times and also as a result of their respective, and sometimes impoverished, backgrounds. That struck me throughout each generation's saga, the fact that the women had very little, if any, ability to exercise any sort of free will, even up to Theresa, who finds herself in her "shameful" position as a result of being taken advantage of by a young man she hardly knows.
Cecily Wong based much of this novel on stories from her own Chinese-Hawaiian family, with many characters and events being composite creations from her parents', grandparents', and distant relatives' experiences. She speaks of her debut novel in this short video:
As most of the Leong family secrets are kept shrouded until the final parts of the novel, I found myself trying to connect the dots and predict what would be revealed next as I read along. I couldn't help but feel compassion for the women who were swept up in this saga, for both their fates, and sometimes, for what they made (or didn't make) of what life gave them. I highly recommend this powerful novel.