As a parent, bibliophile, and former teacher, I love for my kids to learn from books. When they are learning and enjoying it, I am even happier. If I find a book that is a perfect blend of education and entertainment, I want to share it. Laurie Keller's The Scrambled States of America is one of these.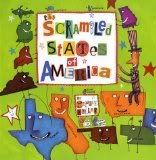 One morning, as the states wake up and start the day, Kansas expresses his dissatisfaction with being "in the middle of the country." Kansas wants to see new things and meet new states. With the help of Nebraska, Kansas organizes a party for all the states to attend. During the party, the states agree to switch places. The states, however, realize that the proverbial grass is not always greener in other locations, and all the states must find their way home.
This book is a delight, and I highly recommend it. The illustrations are engaging, and the story line is amusing. I smiled as I listened to my son laugh while reading in his room.
To make this book even more enjoyable, I recommend the Scrambled States game as well. After my son read this book in December, we decided to give him the game as a Christmas gift. Like the book, the game is fun and educational. It teaches the location of each state, as well as fun facts. We have played Scrambled States many times since Christmas, and it is a game we will enjoy for quite some time.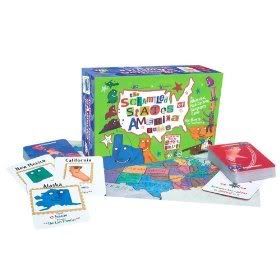 During the cold winter months, our family passes the time by reading books and playing games. Both my kids enjoy this book; my four-year-old daughter is too young for the game. It is labeled for ages 8 and up, but it is fine for any child who can read well and process information quickly (speed is a factor in the game). If you are looking for something fun and educational, The Scrambled States of America book and game are a great choice!
Lauren is a wife, a mother of two, and an avid reader. She blogs at Baseballs and Bows.