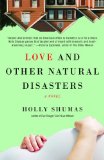 I must say up front that I found Love and Other Natural Disasters by Holly Shumas difficult to read. It definitely wasn't the writing- that was modern and current in ways that made it feel more like a conversation or a series of posts by an earnest and introspective blogger. Added to that, I certainly felt a connection to the characters in the sense that I could imagine my family hanging out with theirs at a summer barbecue, amusing ourselves with chatter while our children played together nearby. What made it challenging to read was the heartache I felt as the seemingly average and normal marriage between Eve and Jon began to crumble right in front of my reading eyes. The main story to be told here hinges on the revealing of an affair.
The images conjured up by that statement are most likely quite different than the events in this novel, as it is quickly understood that there was no physical intimacy involved, simply what a psychologist would refer to as an 'emotional affair.' Eve finds herself wondering what path to take as she attempts to sort through the deception and betrayal she feels, even if not everyone around her perceives the infidelity in the same light, and I should mention that she's also eight months pregnant with her second child at this point. The reader is simply invited to follow along as Eve forges through her own emotions in trying to find the best answer for her, her marriage and her family.
While I fully admit to being an overly emotional person, I still have to say that I am probably not the only reader who found herself shedding a few tears for the sorrow and pain the characters wade through on these pages. While this book may not be for the faint of heart, I found it to be a compelling look into the depths of one marriage, and complex enough that I never found myself routing completely for either reconciliation or dissolution of the marriage.
Dawn is most likely holding a book in her hands this very moment. She can be found blogging away at my thoughts exactly.