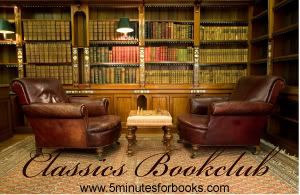 This month's selection for the Classics Bookclub is I Know Why the Caged Bird Sings
. If you haven't read the preview with some suggested discussion points, you can do so by clicking here.
I must admit that I struggled through reading this book. I told my husband that I didn't think it would ever end. It was a difficult, albeit educational, read. Certainly not what I'd expected. I think I've summed up my disappointments with the book in our first podcast (which will be available later this week), so I won't belabor the point here. The focus of the discussion I had with Jennifer and Lauren was Question #1 from the preview:
This autobiography was written in 1969, before the "personal memoir" era was born. Is there a difference between these two genres of books?
I think we also touched on Question # 2
Assuming that you did not grow up as an African American in the segregated South, do you have more understanding of that time period and how it affected those who lived it?
And #6
After reading the book do you understand "why the caged bird sings"?
Perhaps it's the relationships in young Maya's life that I grappled with most. Although she was surrounded by family, she didn't seem to be close to anyone (other than Bailey, but that relationship waned as they grew older). Perhaps I'm mistaken, but I didn't get the sense that she genuinely liked anyone in her family, or that she understood them at all. Many of her recollections seem full of disdain. I know children are often embarrassed by their families, but I couldn't help but feel that she was overly critical, a little too quick and harsh in her judgment. She was offended when the "poor white trash girls" mocked her grandmother, but at some points in the story, I felt she was nearly doing the same thing…or at least being disrespectful to the woman who shouldered the responsibility of raising her and her brother.
Memoirs, according to Merriam-Webster, are "a narrative composed from personal experience". I suppose Angelou is just being honest about how she felt at the time. Never having lived through anything remotely similar, I cannot possibly understand the feelings her upbringing evokes. While I may think the book was tough to read, I can only imagine how brutal living through it must have been.
Did I like I Know Why the Caged Bird Sings
? Honestly, no.
Am I glad I read it? Surprisingly, yes. I am able to better comprehend a part of our American history that I knew little about, and for that, I have no regrets.
So, now it's your turn. Leave us a comment or a link to your own post and let us know what you thought.
But first — remember you're always invited to jump in any time. Our schedule for the next six months can be found HERE.
Classics Bookclub Participants
Powered by… Mister Linky's Magical Widgets.
Melissa has been captivated by books for as long as she can remember. She resides in Virginia at at Breath of Life.