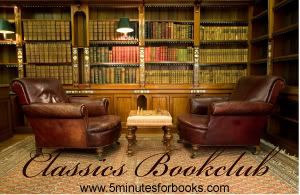 I'd like to invite you to participate in another monthly feature here at 5 Minutes for Books. Once a month we will host Classics Bookclub. The schedule for previous and future months can be found at our Join In page under the header.
It will occur on the first Tuesday of the month.
This first month we are going to read Pride and Prejudice by Jane Austen. Jane Austen is not only hot right now, with many screen adaptations, modern novels exploring the characters or the author herself, but many people list this as one of their all-time favorite novels.
It embodies the true definition of a classic worth reading in the modern-day.
I have been wanting to read it (or revisit it, since I think I did read it in high school) for some time now, so I'd like to invite all of you to join me.
So here's the challenge:
Read or re-read the book in question (this month it's Pride and Prejudice).
If you'd like write a "before" post stating why you are reading the book, or what your impressions are going into it, feel free.
Whether or not you write a before post, link up your after post on the day in question. Our host (this month it's Lisa) will give you some questions to ponder or address in your wrap-up post if you'd like.
If you'd like to visit and comment on other's wrap-up posts, you can truly enjoy the virtual bookclub.
So, grab the book and start reading! On September 2 you'll find us here waiting for you to share your thoughts. Lisa will post some questions sometime the week before if you'd like a little guidance.
You can help us out with this in two ways:
Help us out with our future schedule. Is there a classic you love that you think that others should investigate? One that you keep hearing about but have never read? Something you hated in high school, but think you should revisit? Perhaps just an author you'd like to experience? Leave a comment and let us know. I'd like to create the schedule for at least these first 3 months so that people can decide which ones they'd like to read along with us and plan accordingly.
Spread the word. If you plan to participate this month (or in the future), feel free to display the button in your sidebar, or use it in a your "before" post if you write one.
Here are the codes: