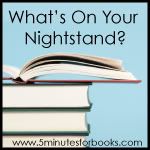 It's here!
I can't tell you how excited your enthusiasm for this new monthly carnival has made me. I think it will be a blast to read around and see what is on everyone's nightstand: in progress, coming up soon, almost finished. . . .
The guidelines are simple:
Write a post on your own blog (or feel free to play along in the comments if you don't have a blog).
You can simply post a picture, or tell us how and when these books got into your to-be-read pile, or give a mini-review of the books in progress.
Link up to this post (please use the permalink that will take us directly to that post, not the main page of your blog).
Read around through the links and find out "What's on Their Nightstand?"
If you've followed someone else's post over here, and it's past Tuesday, feel free to go ahead and link up. There's no deadline.
Come back on fourth Tuesday of next month, August 26, to do it again!
(Click HERE to read about our new monthly carnival).
What's on Your Nightstand? Participants
Powered by… Mister Linky's Magical Widgets.