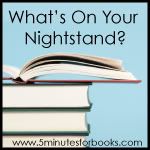 If you are looking for this month's Nightstand, you can find it HERE.
If you're here, it means that you like books. You may read at the expense of housework and childcare (guilty!), you might not read as much as you want to, or you might have found that perfect balance between real life and the escape between the pages.
Each month, we invite you to share What's on Your Nightstand? with all of us.
If you blog, you might post about your reading picks, or you may not. I know that once I started writing the 5 Minutes for Books column for 5 Minutes for Mom, I stopped writing as much about books on my own blog, and I've missed that.
You can participate in What's on Your Nightstand? in several ways. Choose what's appealing to you:
Take a picture or simply give a list of the stack of books that you are in the process of reading or planning to read (it might be on your nightstand, on a bookshelf, or like me, under your bed).
Give short reviews of the book or books that you read that month.
Tell about what you are reading and why. I love to read the backstory on books. Did someone give it to you? Are you trying out a new genre at the recommendation of a friend (or website)? Did you stumble across a new author in a used bookstore?
Fill us in on your reading habits. When are you reading these books? Is one reserved for bedtime reading? Does one stay in your car to be read while you are waiting? Do you read just one book at a time?
I hope that you'll join us the fourth Tuesday of each month (the first one is a week from today, July 29). You will post on your on blog (or if you aren't a blogger, please participate in the comment section), link to our site, and then link to your post here at the Linky provided for that purpose, so that we can click through and find out what everyone else is reading.
Would you like to display our fabulous button, or use it in your post each month? Grab the code here. (Thanks to contributor Jo-Lynne's DCR Design for the great look.).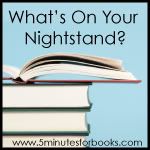 Managing Editor Jennifer Donovan is a contributing editor at 5 Minutes for Mom. She has been blogging at Snapshot for over two years. You'll almost always find her holding either a book, a fork, a child's hand, her laptop, or some combination therein.