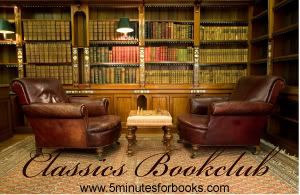 I Know Why the Caged Bird Sings
is one of those books I've always been meaning to read, so I suggested it to Jennifer for the Classics Bookclub. I've never read anything by Maya Angelou, and really haven't heard much about her (though when I checked the book out, my librarian declared, "She's an interesting woman!"). I just heard this book was a classic…one you simply must read…and I wanted to find out why.
We'll be getting together on February 3rd to discuss our latest pick. This preview is supposed to give you some starting points for your own posts on the book. I was NOT an English major in college, so I was relieved when Jennifer pitched in.
As you read the book, you might ask yourself:
1. This autobiography was written in 1969, before the "personal memoir" era was born. Is there a difference between these two genres of books?

2. Assuming that you did not grow up as an African American in the segregated South, do you have more understanding of that time period and how it affected those who lived it?

3. In spite of the differences between her life and yours, what common themes resonated with you?

4. How do you think Maya was shaped by each home she lived in while she was growing up?

5. Which female in Maya's life do you think had the most influence (good or bad) over her? Explain your response.

6. After reading the book do you understand "why the caged bird sings"?
If you haven't gotten the book yet, there's still time to join us. Feel free to use these questions, or pose some of your own.
Are you up to the task? If so, leave a comment and let us know that we can look forward to reading your take on this American Classic.
Check out our updated and expanded schedule for future Classic Bookclub novels HERE.
Melissa has been captivated by books for as long as she can remember. She resides in Virginia at at Breath of Life.