These Cybils Middle Grade Fiction nominees all deal with families. These families might look like your own, or they might be quite different, but the dynamic plays out in a critical way to the plot of these novels, which are each different in tone as well.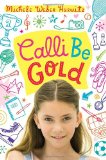 I have to start off by saying what I don't like about Calli Be Gold. The cover just doesn't capture it. I think that in general, whether it's adult books or kids' books, a photo of a real person sort of turns me off. Now that that is out of the way, let me tell you what I do like about the book.
Calli is the youngest in the Gold family, and to be honest, she doesn't feel like she fits in very well. Her sister is on a competitive ice skating team, her brother is a basketball star. These activities keep the family on the go, and 11-year-old Calli just tags along. Her mom and dad pressure her to sign up for extra-curriculars, but she doesn't like any of them. But one day she encounters a young boy under a table at the skating rink (where she has been taken to watch her sister's practice, of course). He won't talk to her, but when her 5th grade class is paired up with his 2nd grade class as peer helpers, she chooses to pair up with him. Noah hides under his desk most of the time and tells her he isn't good at arts and crafts. They don't always complete the peer assignments in the right way (like the one where they were supposed to make a face out of pasta), but they excel at the connection part.
As I was reading, my heart tugged for Calli as she struggled to please her family yet still remain true to herself. My heart also went out as I related to Calli's mother who seemed frantic all the time, yet continued to pile more post-its marking activities on the family calendar.
Then she claps her hands and says those words I dread. "C'mon, Calli, chop-chop."

"Chop-chop" means we have to take my brother or sister somewhere, and I get to sit in the way back of a minivan that hasn't been washed in a very long time and watch my life whiz past through a grimy, sticky, steamed-up window." (page 7)
I know I love a book when I'm crying at the end. No they aren't usually sad tears; they just move me in such a way that they are So Good I Cried.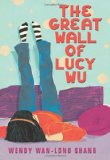 Lucy is planning for 6th grade to be her best year ever. She'll finally have her own room, because her perfect sister is going off to college. She soon realizes that her definition of perfect is going to have to be tweaked. Her recently deceased grandmother's sister Po Po is coming to visit for a few months, and guess where she's going to be staying? That's right — Lucy's room. Lucy holds on to her privacy the only way she can, by building a "great wall" of her desk and bookshelves to divide the room.
What's more, a Chinese school is starting up and meets on Saturdays. Her parents want her to go, but if she does, she won't be able to play basketball, which she loves.
This novel hits all the notes so well. From the first page, Lucy's voice comes across right on target, as she struggles with who she is and who she's supposed to be (even her own sister calls a "banana," yellow on the outside, but white on the inside). It's true that she likes pizza more than traditional Chinese food, and puts her love of basketball ahead of learning Chinese, but that doesn't mean she's a traitor to her race, does it?
Lucy indeed learns more about being Chinese as she comes to accept Po Po and herself, just as she is. This is a heartwarming and funny story of friends (and enemies), family, school and basketball. I've marked this post with the 5 Star Reads label in honor of this story, but the other two are right up there as well.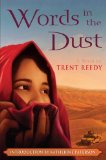 This is a powerful story about an Afghan girl, Zulaikha, who has a cleft palate. She works hard and tries to please her stepmother. She loves her brothers and her sister, but now that her sister is getting married, she thinks more about her future. What will she do when she leaves? There will be more work for her, and she wants to be there for her family, but she also hopes to learn to read like her mother did. And will she ever get married herself when she's known as "Donkey Face" by the neighborhood boys?
Though set in a war-torn country so different from contemporary America, Zulaikha's hopes — to be someone, to do something she loves, to be loved and accepted — are common to all. Like many children, she feels helpless and unable to help herself, but in the end, she stands up (respectfully) for what's important to her. The setting and place adds to the beauty and other-ness of the story.
There are some more mature themes, having to do with the nature of war and the treatment of women, so I'd recommend it to less sensitive kids, probably 5th grade and up (and any adult who is interested in this culture).
Though I am a Round I panelist in this Middle Grade fiction category for the Cybils, my opinions are solely my own and are not meant to reflect the final outcome.
Don't miss a thing: Check out our current giveaways. Subscribe to our feed or video reviews on YouTube. Follow us @5M4B on Twitter or on Facebook.

Though it's a challenge, Jennifer Donovan can't imagine one more fun than reading as many of the nominees as she can in this 2 1/2 month timeframe. That's one reason she doesn't blog at Snapshot so much anymore.