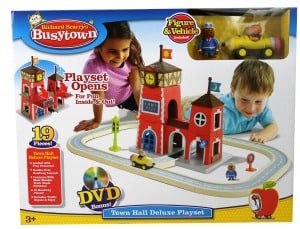 Trends come and go, and as a child of the 80s, I'm frequently finding that many of the characters, toys, and shows that I enjoyed as a child are coming back now, just in time for those in my generation to want to reminisce by turning our own young kids onto them. But, then there are those few names that just haven't gone away since our childhoods, staying popular and beloved by children over the years. Richard Scarry definitely falls into this category, and his characters and stories have remained a fixture in young kids' lives for decades.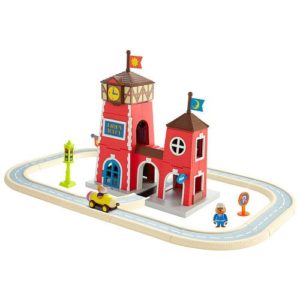 As the holiday season rapidly approaches, parents of young children who love the characters and fun of Richard Scarry's Busytown world should look no further than the Busytown toys, including the Town Hall Deluxe Playset.
Read my full review over at 5 Minutes for Mom and leave a comment over there to enter to win one for yourself (U.S. only).
Comments are closed here to remind you to leave your comment over there.
Don't miss a thing: Check out our current giveaways. Subscribe to our feed or video reviews on YouTube. Follow us @5M4B on Twitter or on Facebook.
5 Minutes for Books staff reviewer Dawn splits her time teaching preschool, parenting three wacky kids and occasionally blogging at my thoughts exactly.