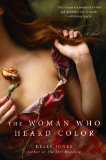 The Woman Who Heard Color
opens with Laurel, an "art detective" who tracks down artwork missing or stolen, especially under the Nazi regime, meeting with Isabella, a German immigrant whose father was Jewish and whose mother, Laurel suspects, worked with Hitler and his minions to steal artwork from Jewish owners and galleries. Isabella is elderly and fragile and immaculate, and her gracious apartment is filled with art—some copies, some originals. "I suppose I'd better tell you my mother's story," she sighs, mentions a famous Kandinsky painting believed to have been destroyed during WWII, and we turn a page and the narrative switches to Hanna in 1900 Munich.
Most of the book is the story of Hanna, a woman with synthesia who "hears" colours. Occasionally we slip back to modern-day Laurel and Isabella. I loved that Isabella did not know all of her mother's story. Usually in books like this, it seems that somehow the modern person knows everything that happened, and that's not how life works, especially with someone like Hanna, who was a reticent person not given to spilling her thoughts and emotions.
We follow Hanna's life, from her 'escape' from her parents' farm to working as a maid in the home of rich Jewish art collector and gallery owner Moses Fleischmann. Hanna becomes a personal maid to Fleischmann's second wife, the sickly Helene, and fills her free time life-modeling at a nearby art school where she meets some of the same artists who come for dinner at Fleischmann's. After Helene dies, Hanna and Moses fall in love and honeymoon in Italy. Hanna, educated in art by Moses, becomes an expert in modern art. She works in the gallery and has personal relationships with such luminaries as Kandinsky and Franz Marc. She is also the one to turn down a young, aspiring artist, whose work isn't up to par and lacks vision. She remembers his name; A. Hitler.
Hanna and Moses have one son who is mentally handicapped. After her return from a visit to her sister in America, on which she meets a young Swiss banker and art lover, she gives birth to a daughter, Isabella.
As the storms of Hitler's rise to power gather on the horizon, Hanna takes her children to America to live with her sister and returns to take care of Moses, whose health is failing. Although she longs to join her children in America, leaving Germany proves difficult. She's caught up in Hitler's regime and reverts to her maiden name, Schmid. Hitler, of course, hated modern art—viewed it as Jewish and subversive and vulgar—and promoted "wholesome" art of country scenes and such. Under his rule, thousands of priceless paintings were destroyed, while others were stolen and claimed by the Nazis.
Did Hanna help the Nazis steal art or not? Laurel, hearing bits and pieces from Isabella, still isn't sure, and she continues to look for clues in the tale.
The Woman Who Heard Color
makes it clear that circumstances can force people into making less-than-ideal choices, yet holds out the ideal that one can always choose the best within limited possibilities. Hanna emerges as a courageous, spirited, and quick-thinking woman. It's a thoughtful book, rich in history, and an engrossing read. I thoroughly enjoyed it.
A word on the cover. I'm pretty sure that the art department was told "This is a book about a young woman who life-modeled and loves art" and the person in charge of the book cover never cracked the manuscript open. I can, off-hand, think of several covers that would have been better—atmospheric pictures of Germany in WWII, or perhaps something by Klimt or Kandinsky, or someone looking at pictures in a gallery. All these would have had something to do with the actual story-line. Also I advise you to ignore the quote on the cover by Nicolas Sparks—this book isn't a silly romance, but a serious novel. I think Hanna Schmid Fleischmann would have hated the cover. But don't let that stop you from reading this excellent book.
Elizabeth thinks you shouldn't judge a book by its cover but she does it all the time anyway. Read more at her blog Planet Nomad.